The project has three main components, namely Resilient Livelihoods, Nutrition, Community Mobilisation, and three cross-cutting issues — climate resilience, disability, and women empowerment.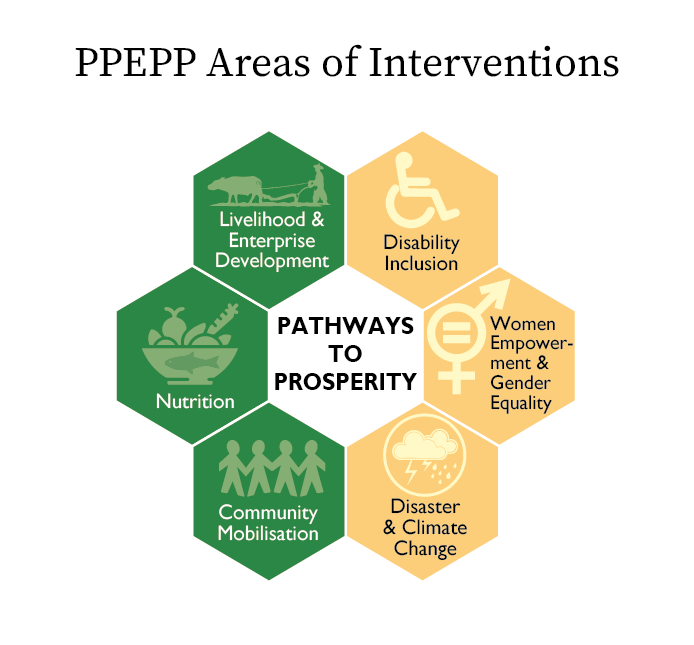 Resilient Livelihoods: Extreme poor households are engaged in various Income Generating Activities (IGAs) with the help of a project-sponsored flexible menu of products. These products include grants, soft loans, technical support and relevant skills training over a longer time frame. Together, they enable the target households to develop a resilient livelihood strategy that supports larger and more sustained income and consumption gains and reduces their vulnerabilities to shocks. The project also aims to grow and transform some of the potential livelihoods into business clusters through value chain interventions, based on the competitive and comparative advantages of the augmented market system of the locality.
Nutrition: The nutrition component focuses on the delivery of a package of Direct Nutrition Intervention (DNI) and nutrition-sensitive interventions of individual households; community-level work to address some of the social practices that prevent good nutritional outcomes; and promoting income-generating activities that support nutrition outcomes where possible. These services make use of the health and nutrition services of the GoB available at the local level. The primary focus of the nutrition programme are under-five children, pregnant and lactating mothers, adolescent girls and other women of child-bearing age.
Community Mobilisation: This component works with extremely poor people and the wider community to build social support and change the social norms that exclude women, girls, people living with disabilities and others, limiting their access to basic services and work opportunities. Through grassroots advocacy, CM component also builds linkage with public and private institutions to ensure extreme poor people's access to various service system at the local level.
Disaster and climate resilience: This component promotes climate resilient livelihoods for income gains and mitigates impacts of climate hazards by promoting early warning systems in vulnerable communities. It also supports households in managing common risks such as illness as well as predictable disasters/climate related risks such as flood and cyclone.
Disability: This component is designed to address the specific needs of the extremely poor people with disability. Where possible, livelihood opportunities are tailored to their specific capacities. The project seeks to increase their access to social safety nets, where needed, to ensure that basic needs are met.
Women empowerment: This component focuses on gender relations within households and across the community involving both men and women. The project deliberately targets women as primary participants of the livelihood graduation component.