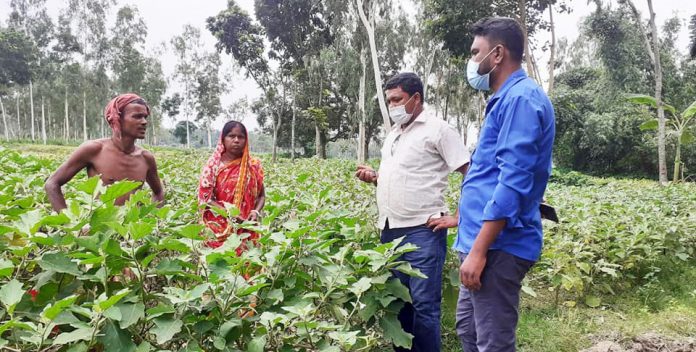 A key activity of the Prosperity programme centres around creating and strengthening linkage with local government and non-government organisations to ensure access to services for the extreme poor households.
The programme connects its members directly with the local livestock, fisheries, and agriculture departments, youth, woman and children affairs, social welfare and other related government officials and private service providers to avail social, technical and technological services for them.
As part of this, field-level agricultural extension officials provide hands-on training to the participants on the development of livestock, fisheries, and agriculture-related income-generating activities (IGAs). Moreover, they provide solutions to the relevant technical issues such as building cowsheds, fodder management and pond preparation and its maintenance for fish culture. They also provide information on various new features of agricultural technology, as required by the programme participants.
The linkage also paves the way to receive various inputs such as seeds, pullets, fertilisers, pesticides and medicines from local agricultural extension departments. They also inform the extreme poor households in advance about the availability and price of their required inputs in the local market.
The agriculture extension officials guide the appropriate cultivation techniques, technologies and pesticides of different agricultural products such as paddy, wheat, potato, mustard, brinjal and tomato. The livestock extension officials provide vaccines and de-worming tablets for the cattle and poultry. They also visit the households on-demand to provide problem-specific suggestions and guidance to the participants.
'An official [from the agriculture extension office] gave me many useful suggestions. It helped me a lot in vegetable cultivation. He also gave me fertilsers for free,' said Shahidul Islam, a participant from climate-vulnerable Kishoreganj haor area.