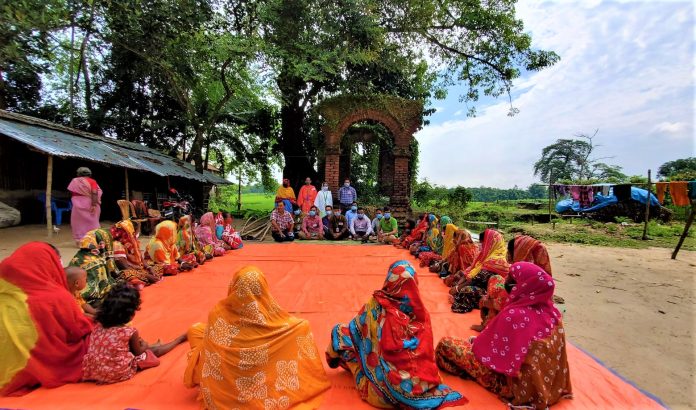 Prosperity project organised a three-day residential training on linkage building and awareness building through community mobilisation for the Technical Officers (TOs) and Assistant Technical Officers (ATOs) of Livelihoods, Nutrition and Community Mobilisation components.
As many as 35 participants from six partner organisations took part in the training at the ESDO training centre, Thakurgaon, from 22 September 2021 to 24 September 2021.
Community mobilisation, which is integrated with all other project components, is an integral part of Prosperity to establish effective linkage with local service providers, and to unite and strengthen the local community. It also enables the extremely poor households to raise their voice and claim rights and services.
This is accomplished, firstly, by raising awareness at household and community levels through Social and Behavior Change Communication (SBCC) sessions and, secondly, by building linkage with public and private service providers through grassroots advocacy.
To ensure this, the project adopts 'Service Delivery to Rights' approach, and engages and sensitises relevant stakeholders to ensure participant households' access to services for their economic empowerment.
The three-day training imparted knowledge on the fundamentals of the community mobilisation tools and techniques, and held separate sessions on poverty and its causes, community mobilisation, advocacy, behaviour change communication and social campaigns.
It also held discussion on a range of topics that include but are not limited to the inter-relation among the project components, self-development, social involvement, social behaviour change and communication techniques, social safety net programmes and the role of Community Mobilisation in disaster management.