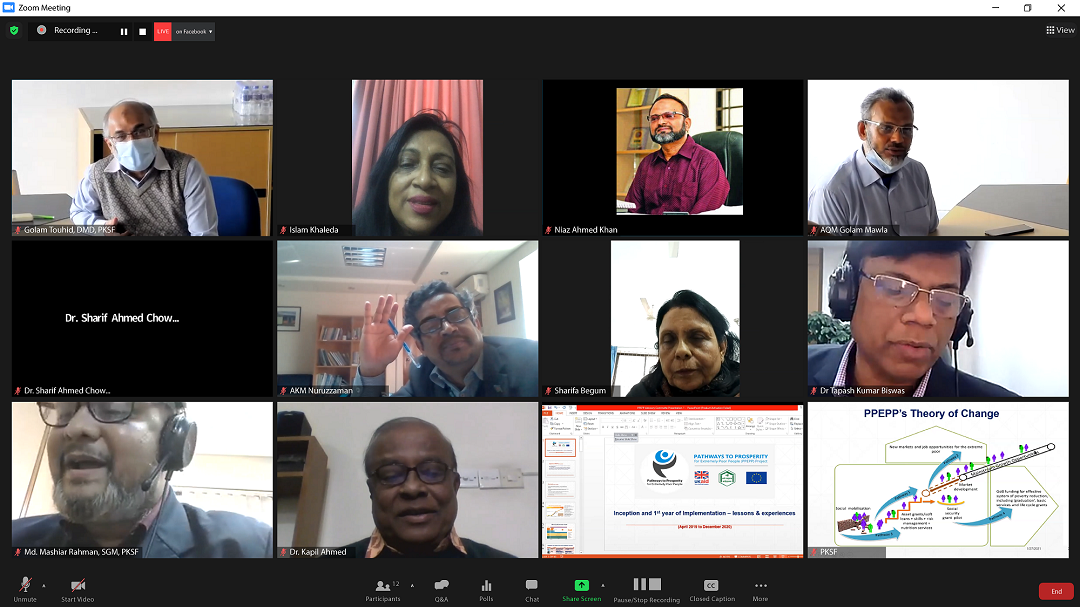 The Advisory Committee for the Prosperity programme held a meeting on 27 January 2021 to discuss the progress made so far as well as its plan for better monitoring to ensure better results. The eight-membered committee, formed soon after the programme was launched in April 2019, is in-charge of providing academic and technical guidance to the Programme Implementation Unit (PIU) of the Prosperity programme.
Presiding over the meeting, PKSF Deputy Managing Director Mr Golam Touhid said the Prosperity programme is on right track and has made satisfactory progress. Prosperity, which is working for the sustainable development of 250,000 extreme poor households, is a multidimensional programme with financial and non-financial services. PKSF is implementing three main components (livelihood, nutrition, and community mobilization) and three cross cutting issues (disability, women's empowerment leading to gender equality and disaster & climate change). The programme is now designing tools to monitor the progress and capture impacts in the field, he added.
PKSF Deputy Managing Director and the Prosperity's Project Director Mr. AQM Golam Mawla gave a welcome remark as member-secretary of the committee. Prosperity programme, jointly funded by the UK's Foreign, Commonwealth & Development Office (FCDO) and the European Union (EU), has already developed a framework for Results-Based Monitoring (RBM) to monitor interventions effectiveness as well as results of the project. The project is identifying extremely poor households in its working area through Participatory Extreme Poor Identification Technique (PEPIT- a unique tool tailored by the project which is a combination of Social Mapping and FGD), and household census. Using these tools and techniques, more than 300,000 households have been primarily identified and the project is now organizing identified households through rigorous verification and community validation.
Dr Sharif Ahmed Chowdhury, General Manager and Md. Mashiur Rahman, Senior Programme Manager jointly delivered a presentation on the programme's objectives, goals, multidimensional interventions, Theory of Change, characteristics of the extreme poor households in the working area as well as the Results-Based Monitoring (RBM) system. The presentation focused on how results (output, outcome and impact) will be monitored by the RBM system.
­­The Prosperity RBM has been designed in a way so that it will:
Record activities and outputs
Identify deviations from work plans
Identify constraints or bottlenecks
Assess efficiency and effectiveness
Learn from achievements and mistakes
Take corrective actions
Increase capacity to perform better
Assess progress and results
After the presentation, the committee members suggested to incorporate a few things to make the RBM system a robust internal monitoring tool. Dr Niaz Ahmed Khan, Professor, Department of Development Studies, University of Dhaka appreciated the PIU for initiating such a scientific system by which the project can evaluate themselves where they are standing. He also added Prosperity's position is strengthened through three points, such as different from other graduation programmes, low cost of delivery and comprehensiveness in diversity and coverage. Dr Sharifa Begum, former Senior Research Fellow, Bangladesh Institute of Development Studies (BIDS) and Dr Khaleda Islam, Professor, Institute of Nutrition and Food Science, University of Dhaka also spoke as external members of the committee.
Further, Dr. Tapash Kumar Biswas, Director (Research), PKSF and Md. Mashiar Rahman, Senior General Manager, PKSF has given their valuable thoughts on the RBM design. Lastly, Dr Sharif Ahmed Chowdhury and Dr Kapil Ahmed, Sector Coordinator (Research and RBM) have responded to some questions and thanked everyone for their valuable suggestion.