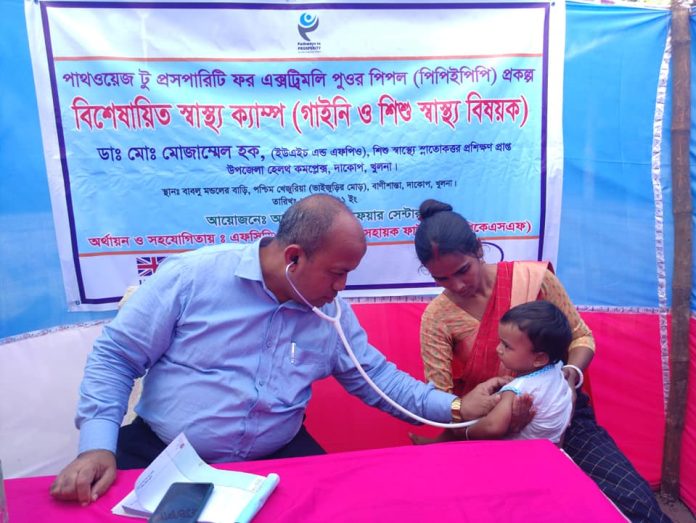 Poverty and poor health are interlinked. Poverty, which is a key reason for poor food consumption, is often responsible for poor health. Poor health leads to low productivity, which in turn leads to income erosion at extreme poor households who largely depend on daily labour for livelihoods.
Often, some of their health problems can be addressed by providing primary healthcare and building awareness about health, nutrition and WASH. In many cases, however, extreme poor people cannot access primary healthcare services due to unavailability of the required medicines or specialised doctors at government health centres in remote areas.
Prosperity project breaks this barrier by bringing primary healthcare services at the doorstep of its members. As part of this, the project is organising specialised health camps with the help of locally available specialised doctors.
Such camps are held more frequently in hard-to-reach areas, where healthcare facilities such as Community Clinics and Upazila Health and Family Welfare Centres are nonexistent or the existing facilities are not fully functional either because they are underequipped or understaffed.
At the moment, the project is providing primary healthcare services to its participants and the larger community members, focusing on mother and child health and basic eye treatments.
Through gynaecology and child health camps, pregnant and lactating mothers as well as adolescent girls are offered treatments and medicines related to reproductive health, while young children get treatment for minor health problems such as fever and cold.
On the other hand, specialised eye camps provide primary treatments for patients suffering from cataracts, glaucoma, keratitis and retina diseases, nyctalopia and ophthalmia, mostly for elderly people.
The specialised doctors from nearby government or private health facilities who conduct the camps are supported by the trained nutrition staff and health workers of the project.
The health camps are also used to provide referral services for patients needing hospitalisation. These camps are also a platform for building linkage between service seekers and service providers.
So far, more than 8,000 extreme poor people received treatments and referral services through our satellite clinics and static clinics across the working areas.
Moyna Khatun, 34, from Khulna's Koyra, is one of them. She visited the health camps in her area a number of times to receive treatments.
"I had been suffering from dizziness and weakness for long, but could not afford to see a doctor for checkups. Then I went to the camp, from where I got some medicines. This camp is a big help for people like me who cannot afford to visit a doctor."