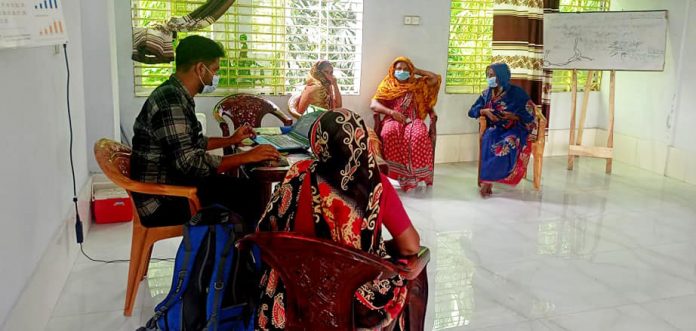 Prosperity has intensified awareness campaigns on Covid-19 health protocol and vaccination in efforts to contain the virus from spreading in different working areas.
Led by community mobilisation and nutrition teams, field staff are working to create awareness on safety measures among participants such as wearing facemasks, handwashing and social distancing. They also discuss a range of issues covering nutrition, healthcare and accessibility in government and non-government healthcare facilities in the pandemic situation.
The programme is using various platforms (Prosperity Village Committee, Maa o Shishu Forum, Adolescent Girls' Club) formed under Prosperity to envourage participants and the wider community members to get vaccinated. The programme is giving special focus to ensure vaccination for persons with disability.
In some area, Prosperity POs in coordination with the Upazila Health Officer are conducting an online registration campaign, helping community people to register online for vaccination.
Meanwhile, members of the Youth Forums are collecting funds from local affluents to buy food for the most vulnerable extreme poor people in their communities.