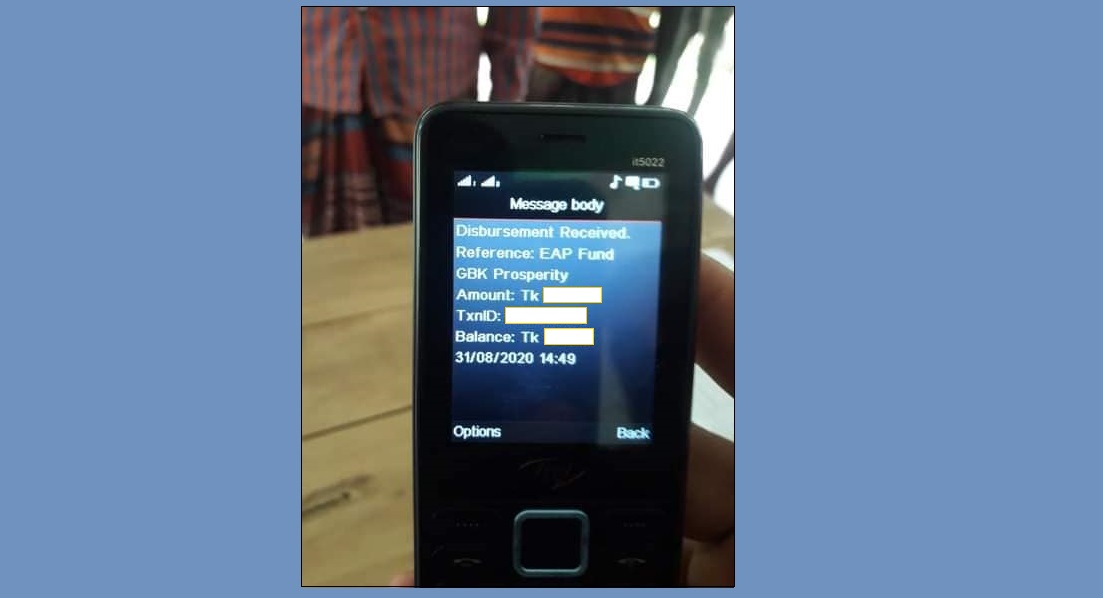 PIU stresses transparent, timely distribution
The Project Implementation Unit of Prosperity has stressed the need for transparent and timely execution of the Emergency Assistance Programme (EAP), as Partner Organisations have formally began transferring emergency cash to support some of the programme participants experiencing food shortage.
The directives came at a virtual meeting with the executive directors and their representatives on 11 October 2020, when the EDs, project officials and the senior management of the PIU also discussed the challenges of implementing the EAP and how best to overcome them.
The emergency cash transfer programme is meant to support some 30,000 extreme poor households in 17 piloting unions amounts BDT 31 crore approximately, who are experiencing food shortage as their income fell as a result of the ongoing Covid-19 pandemic. The recent floods in the working area have further complicated the situation for these vulnerable people living way below the poverty line.
Under the EAP, the selected extreme poor households will receive BDT 3,000 each for three months straight to buy food, medicine and other life-saving items only.
To ensure transparency, the cash is being transferred directly to the participants or their close family members using Mobile Financing Services (MFS) such as bKash, Rocket, Nagad and agent banking services.
Before the formal launching, the EAP was piloted in some unions in September 2020, when some 769 extreme poor households received BDT 500 each on a test case basis.
The piloting, done to fix the transfer modality, yielded some insightful learnings, which were shared with the executive directors and other project staff of the nine Partner Organisations who carried out the piloting.
PKSF Manager (programme) AKM Zahirul Haque delivered a presentation on the findings from the piloting as well as on the verification and validation process for the cash support.
After the presentation, executive directors and senior PO staff pointed out some challenges and shared their views on smooth implementation of the programme.
Speaking at the meeting, PKSF Deputy Managing Director AQM Golam Mawla and General Manager Dr Sharif Ahmed Chowdhury stressed the need for proper documentation of the cash distribution to ensure transparency of the cash support under the Prosperity programme.
The Prosperity programme supports extremely poor people to connect them with mainstream economic growth and create income-generating opportunities for their sustainable development.
The programme, jointly funded by the UK's Foreign, Commonwealth & Development Office (FCDO; formerly DFID) and the European Union (EU), aims to lift one million people from some 2,50,000 households out of extreme poverty by March 2025.