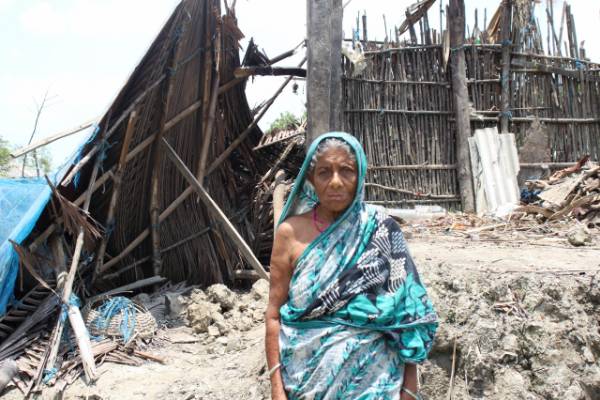 Sitting on a precarious geographical location along the Bay of Bengal, Bangladesh is hit by climate-induced disasters — cyclone, tidal surge, flood, drought, excessive rainfall – almost every year, inflicting heavy damage to lives and properties.
This year's cyclone Amphan has been no different. According to an estimate by the National Disaster Management Council, the cyclone caused damage worth USD 1.5 billion to housing, infrastructure, fisheries and livestock, water resources and agriculture.
Some of the most extensive damage was suffered by the five Prosperity districts in the southern coastal region, namely Khulna, Satkhira, Bagerhat, Patuakhali and Bhola.
More than 700 villages in 58 selected Prosperity unions under 16 upazilas in the southwestern region have suffered damage in various degrees. Of these villages, 276 have suffered extensive damage, 193 moderate damage and 238 villages minor damage, according to preliminary data sent by the Prosperity partner organisations in the respective areas.
The worst hit unions are Gabura and Paddapukur of Shyamnagar upazila in Satkhira; Anulia of Ashashuni upazila, also in Satkhira; Uttor Bedkashi, Dakkhin Bedkashi and Koyra of Koyra upazila in Khulna; and Chila in Mongla upazila in Bagerhat.
Sayra Begum, of Gabura, is one of the worst affected. With virtually nothing to call her own, the 60-year-old widow lives in 9 no. Sora village in Gabura.
Cyclone Amphan has completely destroyed her house, forcing her to live under the open sky. Sayra has no clue when and how she will be able to repair the house. For Sayra, who struggles to manage even her daily food, it has become an added burden.
The livelihoods of extreme poor people have already become uncertain because of the economic slowdown due to the COVID-19 pandemic. The impact of Amphan on top of that has made the coastal extreme poor completely destitute.
At the moment, Sayra is facing serious food and water crisis. "Who will give us some food and a shed over our head?" asked Sayra, a potential Prosperity member.
Impact of Super cyclone Amphan on 5 Coastal Districts
The impact of super cyclone Amphan has been analyzed based on Sentinel 2 data acquired on May 22, 2020. Sentinel-2 is an Earth observation mission from the Copernicus Programme of The European Space Agency (ESA) that systematically acquires optical imagery at high spatial resolution (10 m) over land and coastal waters. The maps show pre-conditions of coastal five districts (Satkhira, Khulna, Bagerhat, Patuakhali and Bhola) as well as the impact of super cyclone Amphan. The results are elaborated in the following tables:
Table 01: Pre and Postcondition of coastal 5 districts
| | | | |
| --- | --- | --- | --- |
| Sector | Unit | Before Cyclone | Affected |
| Shrimp Farm/Brakish Water Fisheries | hectare | 105508.6 | 105508.6 |
| Agriculture | hectare | 692834.6 | 63485.8 |
| Settlement | hectare | 254785.9 | 16463.7 |
| Water Level (extent) | hectare | 1103607.3 | 226594.9 |
| Population | number | 8735991 | 1185023 (appt) |
Table 02: Pre and Postcondition detail of coastal 2 districts (Satkhira and Khulna)
Sector

Unit

Satkhira District

Remark

Khulna District

Before Cyclone

Affected

Before Cyclone

Affected

Shrimp Farm/Brakish Water Fisheries
hectare
89871.6
74426.9
–
50379.3
31081.8
Agriculture
hectare
77820.0
18022.1
–
105795.1
13268.7
Settlement
hectare
54576.5
16239.4
–
42044.2
9560.6
Water level (extent)
hectare
231865.2
114332.8
–
213966.9
114332.8
Population
number
2197037
653734.8
Approximately
1603891
364715.2 (appt)
The Prosperity programme, jointly funded by the UK's Department for International Development and the European Union, supports extremely poor people to connect them with the mainstream economic growth and create income-generating opportunities for their sustainable development.
The programme aims to lift 1 million people from 2,50,000 households out of extreme poverty by March 2025.