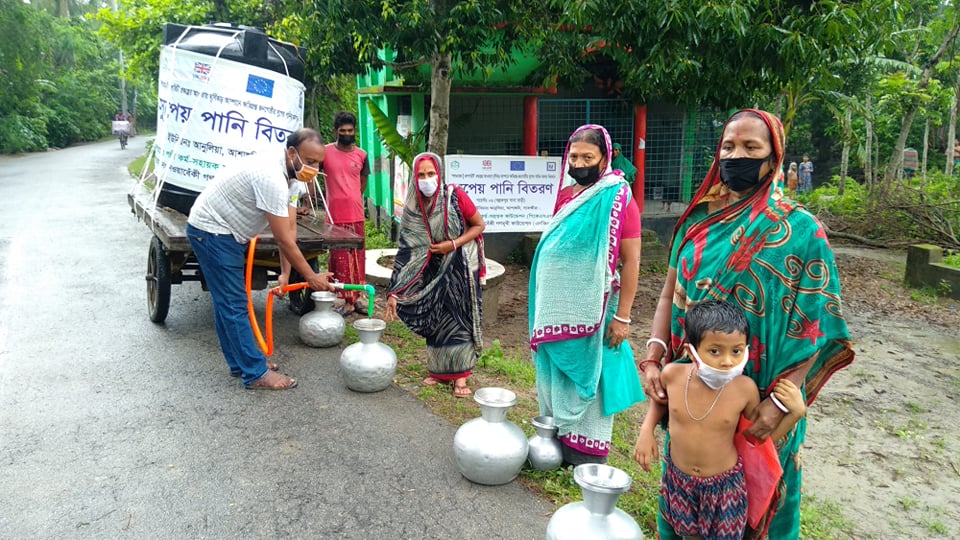 Cyclone Amphan left a trail of destruction in the southern coastal belt of Bangladesh where the poverty rate is high.
Formed as a Super Cyclone in the Bay of Bengal, the cyclonic storm and the accompanied rain and tidal surge damaged homes and crops and submerged houses, ponds and tube wells, setting off a severe food and drinking water crisis for the extremely poor people living along the coast.
Even two months after the cyclone, food and water crisis remains acute in some areas, particularly in Satkhira, the worst-hit district.
As part of its response, the Prosperity programme has been distributing free drinking water to some of the most affected families in Satkhira district, a Prosperity working area.
Prosperity partner Nowabenki Gonomukhi Foundation (NGF) is carrying out the distribution activities.
Starting from 20 June 2020, NGF has distributed some 2,05,000 litres of free drinking water among EP households of Gabura and Anulia unions till 3 July 2020.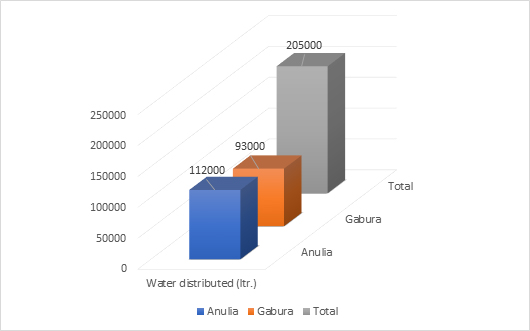 Amirun Nessa of Dasher Gheri village in Shyamnagar upazila is among those receiving the potable water.
"After the cyclone, we had to bring drinking water from far away villages. Sometimes we had to drink pond water, and my children had a stomach problem. Now we are benefiting greatly from the free water distribution by Gonomukhi [NGF]," said the mother of two whose husband is a poor day-labourer.
Under the initiative, some 1,600 extremely poor households of these two unions will get 10-12 litres of water a day for two months in line with the Covid-19 health safety protocols. The total amount of water to be distributed has been set at about 11,52,000 litres.
The Prosperity programme, jointly funded by the UK's Department for International Development and the European Union, supports extremely poor people to connect them with the mainstream economic growth and create income-generating opportunities for their sustainable development.
The programme aims to lift 1 million people from 2,50,000 households out of extreme poverty by March 2025.