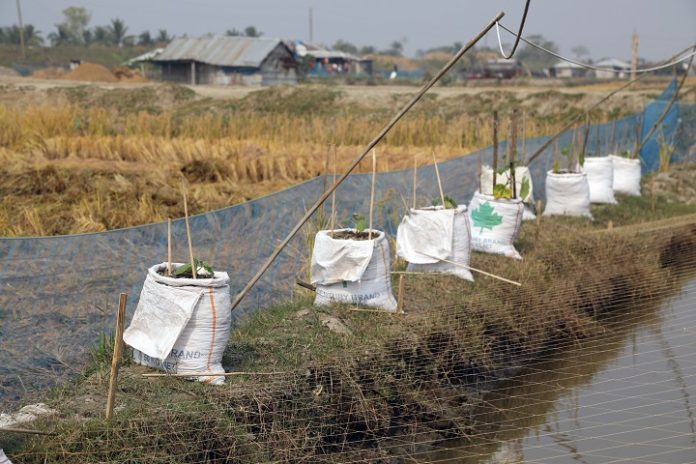 Climate-induced hazards continue to leave marks of their adverse effects on the lives and livelihoods of extremely poor people in different climate-vulnerable regions of Bangladesh. Their impacts are more devastating in the coastal belt, northern districts and haor regions. People living in these areas face frequent climate shocks such as riverine flood, flash flood, tidal surge, storm, waterlogging, salinity intrusion, prolonged droughts, and erratic rain.
The impacts of the devastations often last long, as many poor and extremely poor people lose their homes and other belongings along with their livelihood options.
In the coastal area in particular, farm cultivation is difficult due to salinity and contamination of water resources in the aftermath of cyclone and tidal surge that floods farmland with saline water.
The combined effects make them even more vulnerable as they face food and nutrition security, which leads to poor health, frequent illness and, resultantly, low productivity, making extreme poor more vulnerable.
Prosperity project tackles this by transferring climate-smart farming technologies to ensure food and nutrition security at participant households that are already benefiting from the following four climate-resilient techniques in coastal regions:
| | |
| --- | --- |
| Vegetable cultivation in sacks: Because of salinity in the soil, many project participants cannot grow any crops or vegetables on their farmland or homestead land. To address this, the project promotes vegetable cultivation in sacks. Under the initiative, project participants fill medium-size sacks with fertile soil and apply vermicompost and other fertilisers to improve the soil quality further. With technical and financial support from the project, they then grow various seasonal vegetables including gourd, snake gourd, bitter gourd, pumpkins, beans, and chili in sacks that can meet their household demand. | |
| | |
| --- | --- |
| | Salt/water-tolerant rice varieties: Coastal and haor regions face tremendous challenges in growing crops, the former due to salinity and the latter for flash floods and waterlogging for nearly half the year. As a result, regular rice varieties are not an option there. The project is promoting salt-tolerant rice verities like BRRI-97 and BRRI-99 that were developed to withstand such hazards. Participants living in flash flood-prone haor regions are growing high-yielding rice varieties BRRI-79 and BRRI-80 that can cope the unique climatic conditions of this region. |
| | |
| --- | --- |
| Salt-tolerant vegetables: Prosperity promotes salt-tolerant and high-value vegetable cultivation in coastal areas to ensure a healthy diet in extremely poor households. Vegetables that can grow well and have commercial potentials include tomato, eggplant, bottle gourd, cauliflower, carrot, pumpkin and cabbage. Many Prosperity members are already growing these seasonal vegetables with considerable success. | |
| | |
| --- | --- |
| | Rainwater harvesting for irrigation: Cultivation requires fresh water for irrigation, which is scarce in coastal districts like Khulna, Satkhira, and Bagerhat. Participants in these areas are encouraged to make water reservoirs beside their land to collect and store rainwater for year-round use for crop and vegetable cultivation as well as for household consumption. Rainwater harvesting is one of the most practical solutions being promoted by the project to ease coastal belt's water crisis. The project also promotes rainwater harvesting in tanks for drinking and cooking, and distributes plastic tanks in selected coastal area. |
| | |
| --- | --- |
| Climate-resilient commercial chicken production: Small-scale commercial broiler or layer farming under intensive management helps the extreme poor households in generating regular income even under harsh environmental conditions. Prosperity project ensures availability of quality inputs (e.g., day old chicks, pullet, feed, drugs and vaccines) and technical services to run these farms. It also extends marketing support through local-level market intermediaries. | |
| | Promoting brackish-water aquaculture: To make best use of brackish-water, Prosperity project is promoting small-scale commercial culture of Vetki, Crab (both hard & soft shell), shrimp and other high-value native fish (Parshya, Vangon, Tengra). Prosperity project ensures availability of quality inputs (e.g., fries/fingerlings, feed, aqua-medicine), and technical services to the farmers. It also extends marketing support through local-level market intermediaries. |