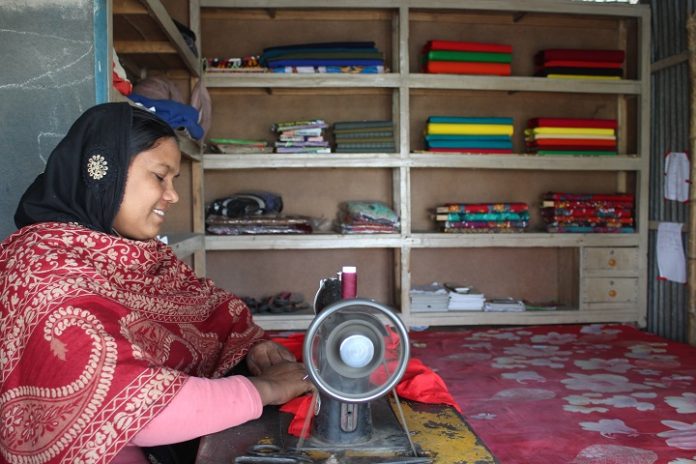 Ismat Ara started small, with a single sewing machine. But the 39-year-old from Rangpur's Marneya union is already dreaming big. And she may not be very far-off from realising her dream, as she plans to set up a tailoring shop not only for her own income, but also for other disadvantaged women in the community.
For quite a few years, Ismat Ara was a known face for her hand sewing work in the neighbourhood. After receiving a month-long tailoring training under the project, she transformed a part of her house into a tailoring shop.
Her full-fledged tailoring shop attracted attention and she soon started receiving orders to make garment items for children, young girls and women. With the income, she can now support the family and her two children's education. She also occasionally helps her husband, a seasonal small trader.
With her savings, Ismat bought 10 ducks and a cow and is planning to buy another cow.
"I want to train and employ some women in the new shop as I am receiving an increasing number of orders. I think this will encourage other women to engage in tailoring," she said.
Prosperity project offers a variety of off-farm livelihood options to interested extremely poor participants like Ismat to create an alternative income source.
Extremely poor households in Bangladesh often lose their farm-based livelihoods due to climatic hazards. Also, many of them have no land and prior experience or skillset for livestock or agriculture-based farming. For them, it is easier to establish off-farm IGAs instead of farm-based livelihood options.
Participants who adopt off-farm-based livelihoods receive IGA-specific training to develop small-scale off-farm enterprises. After receiving the training, many like Ismat Ara make handicrafts, clothing items, and other handmade products.
The project also provides vocational training for skills development for IGA establishment in many technical sectors. Presently, some 350 participants are receiving vocational training on electric wiring, motorcycle repairing, mobile phone servicing, and livestock, fisheries and agriculture-based technical skill development in different working areas.
These training generally last 1.5 to 3 months, upon which the project supports the extremely poor household members to engage in wage employment or self-employment.