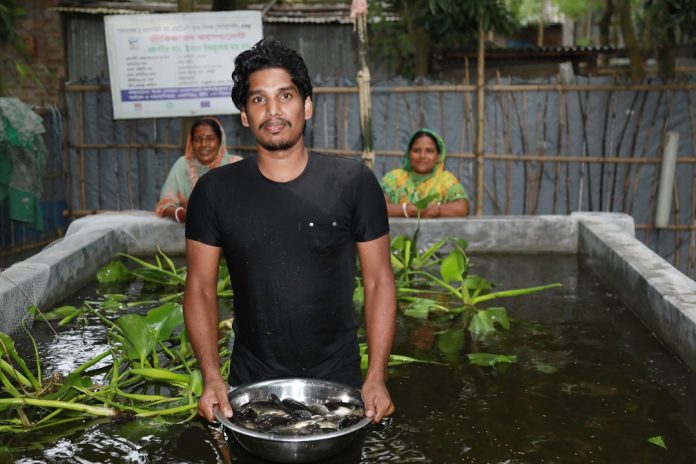 Extremely poor people living in different geographic regions have different vulnerabilities and setbacks, but some of these challenges can be turned into income opportunities with appropriate skills transfer and financial support.
For example, many extremely poor households, especially in south- western coastal belt, have ditches and ponds in and around their homesteads. However, they often fail to turn them into income-generating assets for a lack of fund and technical knowledge.
Prosperity project is supporting such households with training and to access to financial support in the form of grants or loans for fish culture to enhance their household income.
Under the project, participants receive support for fish farming both at the household level and the community level in a number of techniques such as fish culture in ditches, ponds and tanks in different working areas, especially in coastal and haor areas.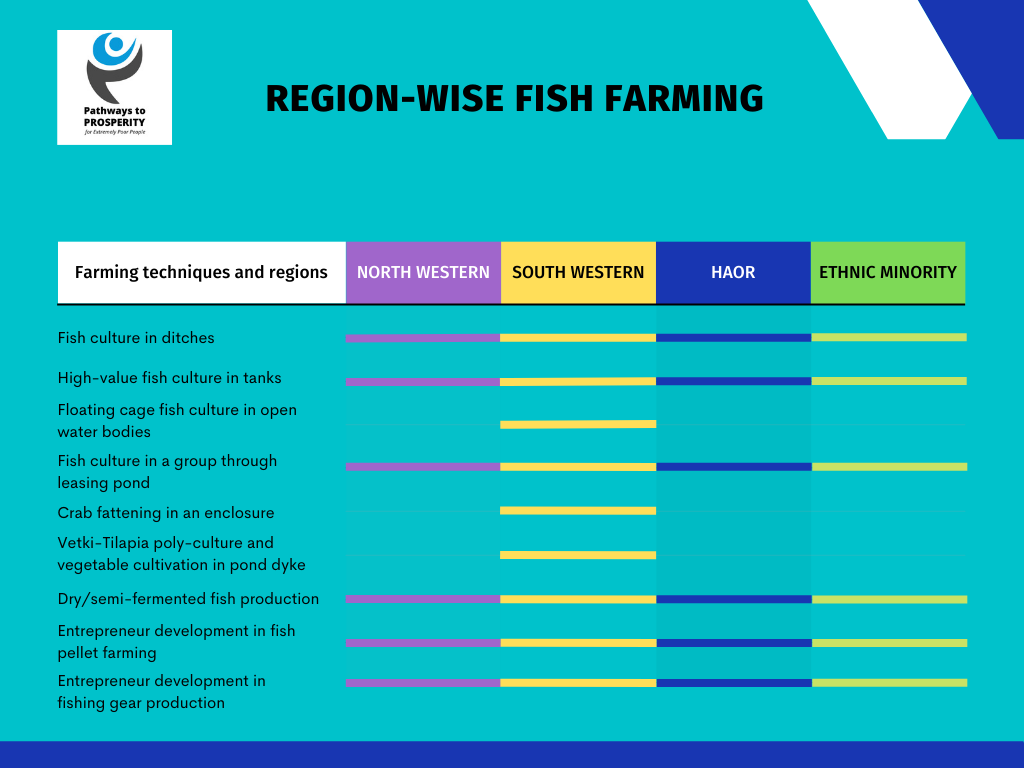 Of the nearly 3,000 households engaged so far in fish farming, nearly 1,200 are from south-western region, namely from Patuakhali, Bhola, Satkhira, Bagerhat and Khulna districts, which faces frequent climate shocks, making agro-based farming very difficult there.
In addition to financial support, participants are also provided with modern aquaculture techniques, fish species, and pellet selection. Depending on their skills and experience, the project offers interested members intensive trainings on selected fish farming-related technology, pond preparation, fishery and inputs management (e.g., fish feed, fertiliser, lime, probiotics, and flock) and medication.
During regular household visits, technical officers provide members with technical guidance and support as necessary. Additionally, fish farmers are linked with the local market actors so they can sell their produce at the right time and at the right price.
"Homestead fish farming is not only increasing my income, it is also meeting our nutritional needs. I wish I had a bigger pond so that I could cultivate more fish to earn more," said Hosne Ara, from Bagerhat, who received a grant from the project. The 40-year-old is a single mother and earns her living by tailoring since her husband left her years ago. Ever since, she has been raising her only girl child, now a college student, all by herself.