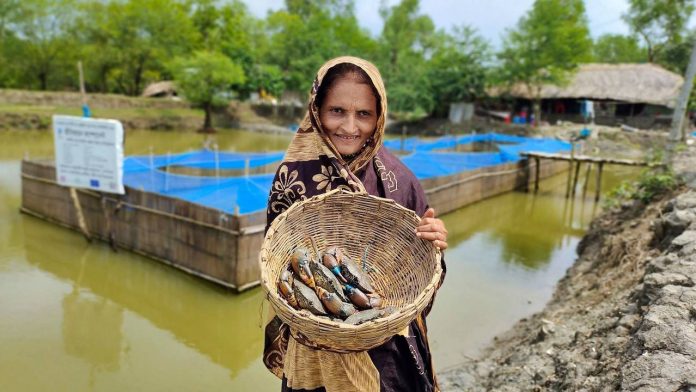 Second only to shrimp in terms of exportable fisheries products of Bangladesh, fattened crabs have high demand on global market, and can fetch four to six times the price compared to immature or half-grown crabs.
To tap on this opportunity to ensure income growth in participant households, Prosperity promotes crab fattening in coastal belt and salinity-prone areas, especially in Khulna, Bagerhat, Satkhira and Patuakhali districts. Evidence suggest that mud-crab fattening is an appropriate livelihood option for brackish-water region of Satkhira and Khulna. It provides relatively higher profit margin in a short period with easy management.
Prosperity members having access to about two decimals of land in southwestern coastal and salinity-prone area are selected for this income-generating activities.
Participants receive hands-on training and technical support in land selection, infrastructure development, crab collection and preservation, feed management, water management in the pond or enclosure, and post-harvest management after crab collection.
Experience shows that fattened crabs from a two-decimal enclosure can fetch up to BDT 40,000 in just 45 to 60 days.
For an additional income and household consumption, the project supports the participants to grow vegetables on the isle or adjacent plain land using entresol technique.
Participants in different working unions in the coastal belt are already seeing initial success in crab fattening. Rupa Begum, 30, from Khulna's Dakop is one of them.