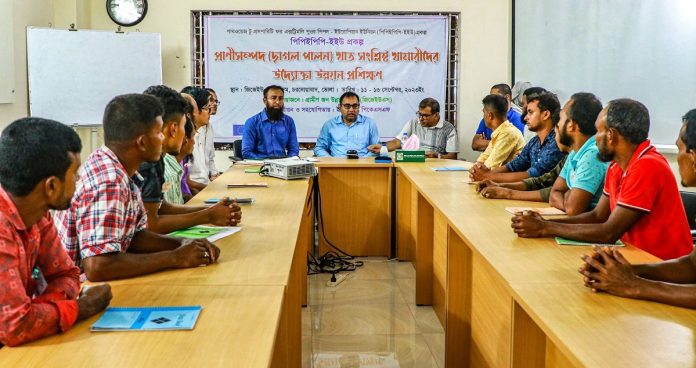 The PPEPP-EU is organising three separate training on 'Entrepreneurship Development' on three major livelihood options- livestock, fisheries and agriculture for the participants. A group of selected family members of the PPEPP-EU participants attended the three-day-long residential training.
Participants for the training were selected based on a set of rigorous criteria such as the household should be under the Progressive or Transient category and the trainee must be husband, son or any other member of the family implementing an IGA and have the enthusiasm to become an entrepreneur. 
Divided into theoretical and practical sessions, the training imparted knowledge on the fundamentals of becoming an entrepreneur and the roles, features and challenges of livestock, fisheries and agriculture-based enterprise development. As part of hands-on sessions, the trainees visited some IGAs established by the project participants who have become successful entrepreneurs.
Some 75 participants, divided into three batches, took part in the training held in September 2023. Officials of the Project Implementation Unit (PIU) at PKSF conducted the training, which was organised at the training centres of three partner organisations in Khulna, Bhola and Thakurgaon. 
During the three-day training, participants also learned a range of topics, including fish farming, cow fattening, goat and sheep rearing, fodder production, preservation and utilisation, animal diseases, vaccination, insemination, supply chain, market linkage and financial analysis.