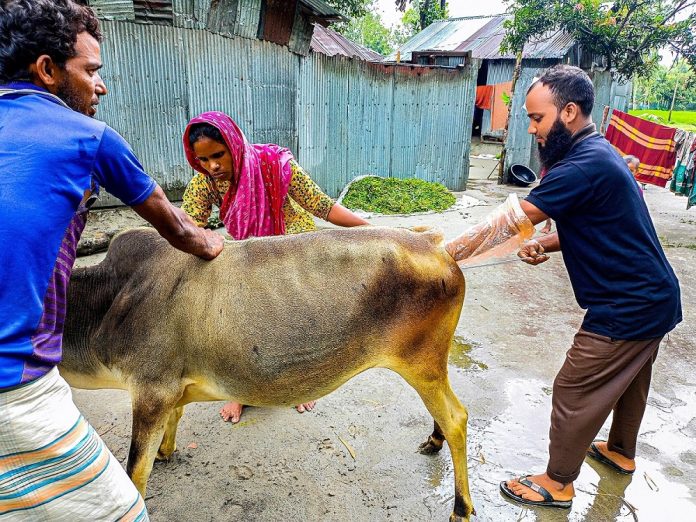 Abdus Samad has had busy working hours since he completed the training on Artificial Insemination (AI) of livestock. The demand for his service is increasingly growing in his community. Samad receives 10 to 12 calls a week for AI and earns around 15000 to 20000 Taka monthly.
Samad (30), the son of Azina Begum (50), a PPEPP-EU member in Gangachara, Rangpur, is his five-member family's sole earner. After losing his father about five years ago, he took the responsibility of his family on his shoulders and started as a livestock service provider.
Samad says, 'Until working in this field, I did not understand that AI has such a growing demand. Besides income generation, this training has helped me become an important member of the local community. Now, I feel my value in my community and they admire my skills as an AI professional.' 
Artificial insemination is an essential tool of cattle breeding and helps farmers increase their animals' productivity. With artificial insemination, a mass-used reproduction system, cows are artificially inseminated with bull semen of higher genetic merit. The planned implementation of AI increases milk production, growth rate and feed efficiency.
PPEPP-EU promotes AI services as an income-generating activity for its members like Samad, who are engaged as livestock service providers. Members interested in training on AI receive a two-month training on artificial insemination of livestock along with a kit-box and other essentials.
Besides meeting the growing demand for AI services in the community, this new skill has added value to their regular livestock services, such as providing vaccination, deworming and other preventive veterinary services. The skill of AI service also helped increase their income and their role as livestock service providers is socially accepted and are now valued in the community.
Some 100 PPEPP-EU members interested in livestock service provision as a profession are expected to receive training on AI in the upcoming months.