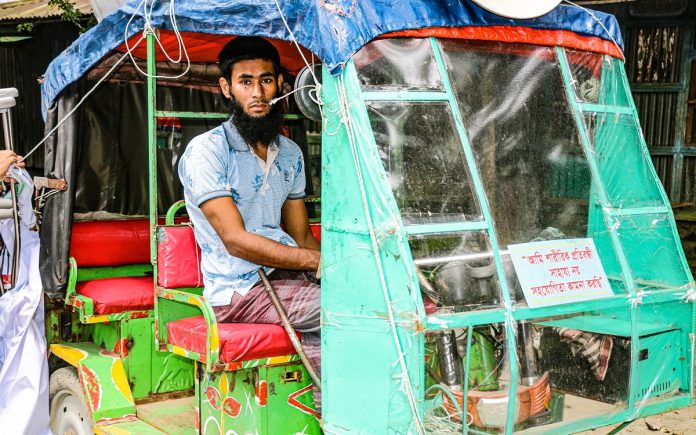 Md Salahuddin (30) turned into a PWD due to an accident of freefall from the rooftop of an under-construction building while working as a mason. Since then, he could not move on his feet as the lower part of his body from the knee became paralysed.
He is one of seven children of Amena Bibi, an extremely poor household and a PPEPP-EU member, who has one more son with a disability in her family. After the incident, Salahuddin became jobless and completely broke down, as his family was deeply dependent on his earnings.
Salahuddin desperately wanted to make his living by riding a battery-run rickshaw in his locality. Amena Bibi bought him a battery-run rickshaw from the grant she received as a PPEPP-EU member. Salahuddin now earns BDT 15000 per month on average. Besides, PPEPP-EU also helped Salahuddin get the 'Suborna' card (government identity card for disability) and disability allowance of NSSS. 
'I am so happy to share my story with you because I want all of you to become self-dependent and not to fall behind due to your physical inability', said Salahuddin while attending an event organised by Grameen Jana Unnayan Sangstha (GJUS), a partner organisation of the PPEPP-EU project in Bhola, Barishal.
The PPEPP-EU project is now organising a series of events with successful PWDs to inspire potential PWDs through sharing and learning from each other. Sharing stories of successful PWDs with other PWD members in the community is expected to give them courage and motivate them to engage in IGAs and become self-dependent.
Till now, 15 implementing partners of PPEPP-EU have organised such sharing events with successful PWDs in the project's different working unions. The local government officials, such as the Social Welfare Officer and Women Affairs Officer at the Upazila level and the Union Parishad Chairman, also attended these events to inspire them and confirm all government support for the PWDs.
During an experience-sharing event organised by Gram Bikash Kendra (GBK), a PPEPP-EU partner in Dinajpur, Nurul Mia (42), a PWD member of PPEPP-EU, said, 'I could not believe their stories unless I would hear them directly. I feel that I should start doing something right now.'