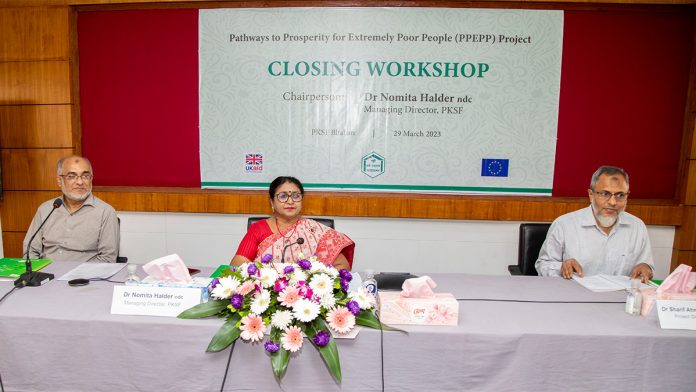 Representatives from UK government's Foreign, Commonwealth & Development Office (FCDO) and European Union have lauded the achievements of PPEPP project, as they heard extraordinary success stories from project participants at an event on 29 March 2023 at PKSF Bhaban in Dhaka.
The event was organised to hold a Closing Worksop of PPEPP project, funded jointly by FCDO and EU.
PKSF Managing Director Dr Nomita Halder ndc chaired the workshop, participated by four women members of the project, delegations from FCDO and EU, executive directors of partner organisations and their representatives, development experts and top officials of PKSF, including Additional Managing Director Dr Jashim Uddin and deputy managing directors.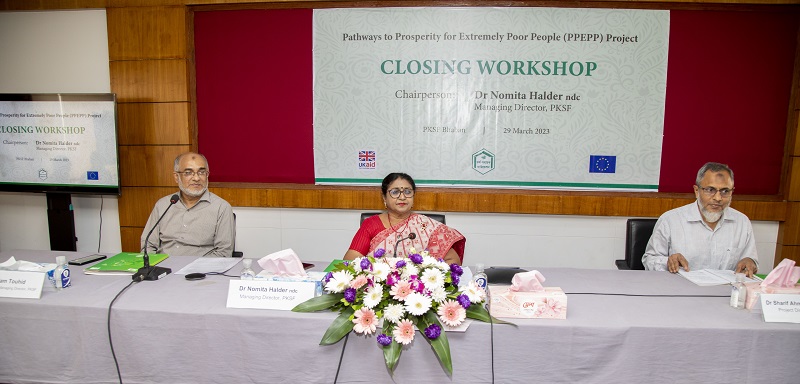 The four women participants, one each from north, coastal belt, haor, and ethnic minority regions, shared their "exceptional transformation" as they gradually move towards the pathways of prosperity.
Speaking at the event, Mst Asmaul Hosna, a project participant from climate-vulnerable Satkhira district, described how she struggled to support her elderly parents and two children after her husband left her, three years into their marriage.
"From having almost nothing, I have been able to build a small home with the money I have earned after being engaged in various income-generating activities with support from the project," said Hosna, who has disability.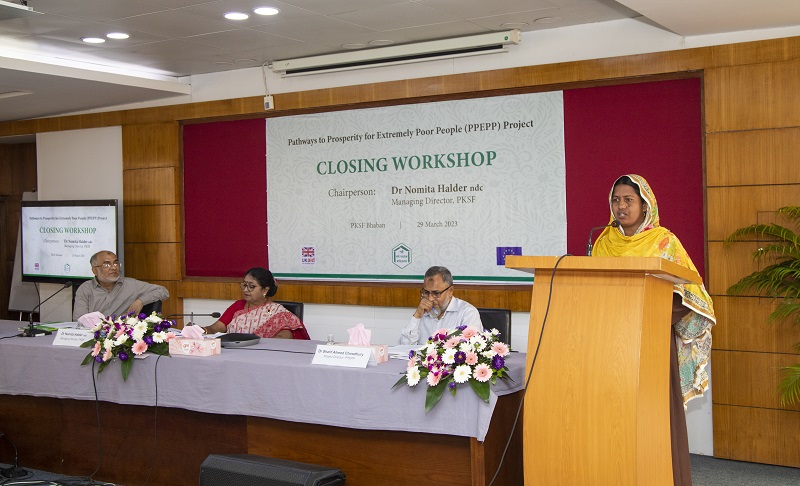 .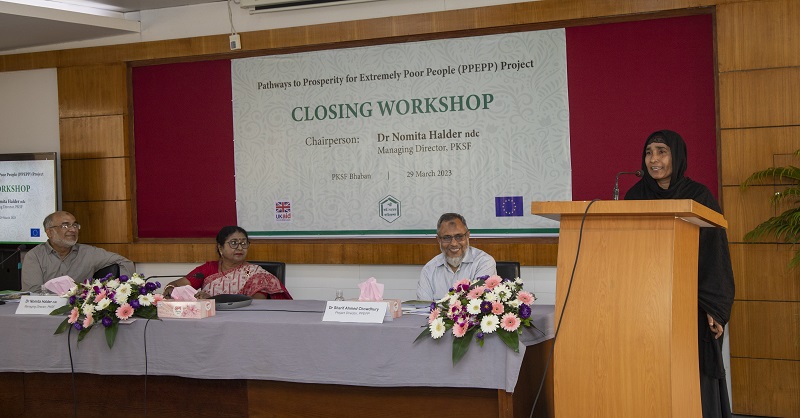 Although the four women come from four geographical areas having specific agro-climatic and socio-economic realities, the stories of their change are almost identical. At the start of the project in 2019, each of them had little income, poor health conditions, and little acceptance in household and community due to gender inequality. But after four years of support from the project, they have higher income, better health and nutrition awareness, and more acceptance in their community and households.
"Many people in my area had their unsanitary toilets covered with ragged cloths. But now we invite you all to come to our village to see the change," said Maria Baske, an ethnic monitory woman from Dinajpur.
A 10-minute video documentary highlighting the project's progress was shown at the event.
FCDO Livelihoods Adviser ABM Feroz Ahmed highly praised the project's achievements.
"Despite big challenges, including FCDO's fund cuts, Covid-19 pandemic impact that we had for two years, very devastating cyclones the programme faced in southwest part of the country, last year's flood in northeast part of the country, despite all these odds and challenges, I think the programme has made a very strong progress," he said.
The project was originally designed to run for six years (2019-2025). But it is closing early in March 2023, as FCDO withdrew funding due to UK's financial downturn in the wake of the Covid-19 pandemic.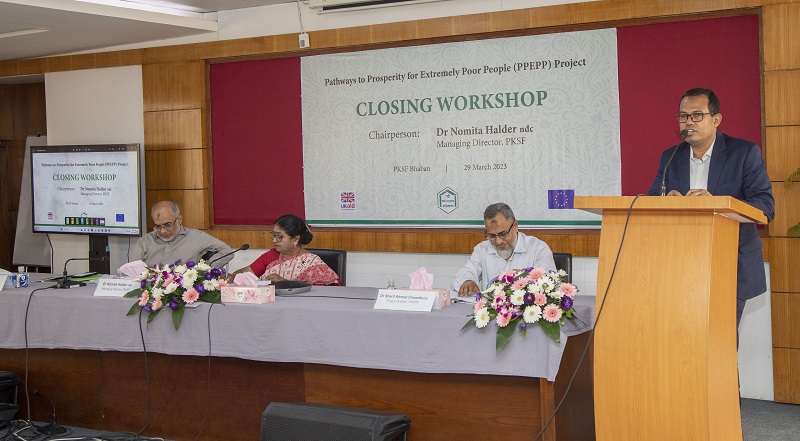 EU is taking over the project, which will now run as PPEPP-EU project until September 2025.
EU Programme Manager Meher Nigar Bhuiyan also acknowledged the commendable success of the project, saying the EU was "very pleased" to step up and continue the project under the umbrella of Bangladesh Resilient Livelihoods Project.
Closing the workshop, PKSF MD Dr Nomita Halder said that for better impacts, PPEPP project delivered its support that are tailored to the needs of the specific households and the regional and geo-climatic natures of the project area.
"Lives of the project participants have gone through a transformation with the project support. But we have to bear in mind that no projects can run forever," she noted, and encouraged development partners to stand by extreme poor people for their sustainable development.