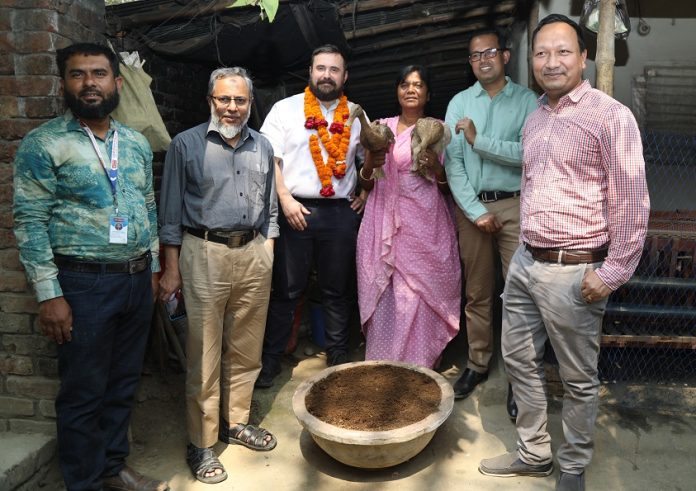 A three-member FCDO delegation led by Mr Mark Anderson, Senior Economic Adviser of the British High Commission, visited PPEPP working areas in the northern region of Bangladesh from 1-2 March 2023 to observe field progress made over the last four years. This visit is a part of project completion review of PPEPP activity by the FCDO.
Dr Sharif Ahmed Chowdhury, project director of PPEPP, accompanied the team during the two-day visit in Dinajpur and Rangpur. Upazila Nirbahi Officer (UNO) of Nawabganj Upazila Mr MM Ashiq Reza, along with other Upazila level government officials, were also present.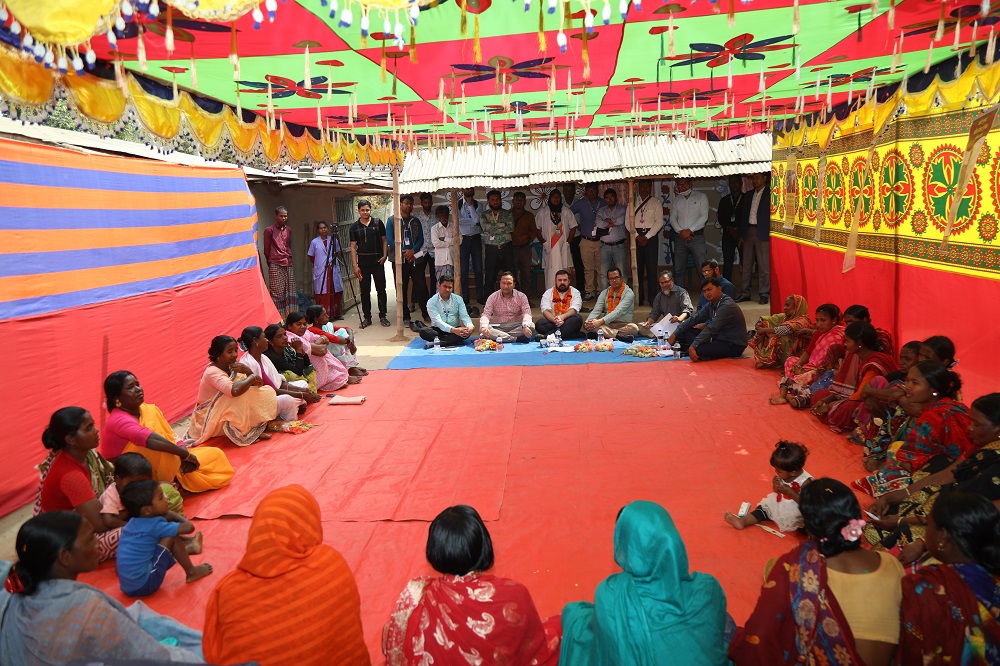 During the visit, members from several Prosperity Village Committees (PVC) in Dinajpur and Rangpur spoke of the positive changes in their lives and livelihoods as a result of the project interventions. They showed how their livelihoods have been diversified, dietary diversity has improved and helped them availing public services. Members of various forums and clubs formed under the project are now better equipped to work against different social norms that prevent their growth and opportunities.
The visit included the households of ethnic minority in Dinajpur and Namarchar of mighty Tista in Gangachara of Rangpur. The delegation witnessed the income-generating activities, especially, cultivation of cash crops (maize, ground nut, garlic etc.), rearing of chicken, duck and goat, vermicompost production, small business, fish farming and tailoring, after receiving appropriate skills training.
Pathways to Prosperity for Extremely Poor People (PPEPP) project, launched in April 2019 with joint funding from FCDO and EU, covers nearly 1 million extreme poor people (over 2 lakh households) in 145 unions of 12 poverty-prone districts of Bangladesh. The project is providing grants, appropriate loans and technical training to ensure income generation and income diversification. Alongside, the project provides support around nutrition and primary healthcare, access to services through social mobilisation, climate resilience building, disability inclusion and women empowerment.
PPEPP project director said extreme poor members have turned around despite a range of uncertainty such as COVID pandemic, natural calamities, rise in commodity prices and fund cuts. The FCDO delegation appreciated the progress made and discussed the challenges and lessons learned in the project implementation. Besides, they assured of providing necessary cooperation, including advocacy at the government level, to implement the project.