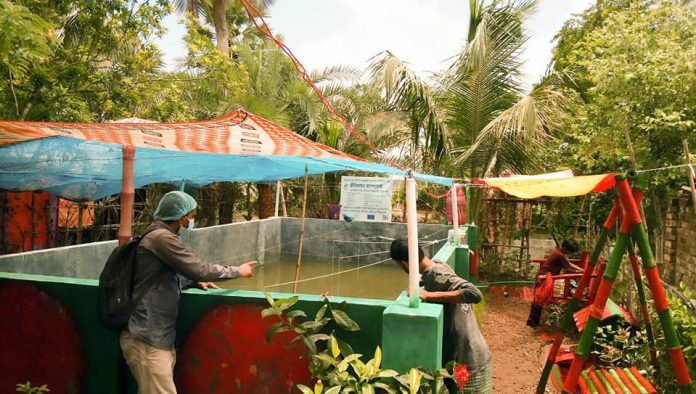 Prosperity's livelihoods component aims to connect extreme poor people with economic growth and set them on a sustained pathway out of poverty by engaging participants with farm and off-farm income-generating activities. The programme's farm-based IGAs include fish farming in a number of methods such as fish culture in ditch, pond and tank in different working areas. Since its inception in 2019, the programme introduced fish farming at household level and community level by organising community members.
Household-level fish farming aims to fulfil the family's nutritional needs and to generate an alternative income source. The cooperative fish farming on the other hand is especially promoted in Haor, riverbank area or coastal area to develop community entrepreneurs, often on a cluster basis.
Both individual and group participants are engaged in modern commercial aquaculture such as fish culture in ditches, high-value fish culture in tanks, floating cage fish culture in open water bodies, fish culture in group through leasing pond, Vetki-Tilapia poly-culture and vegetable cultivation in pond dyke and entrepreneur development in fish pellet farming. So far, 2,682 extreme poor households have engaged in different fish farming technologies in different Prosperity unions.
As part of the initiative, the programme trains interested members on selected fish farming and related technology, depending on their skills, capacity and experience. Participants receive hands-on training and technical guidance on pond preparation, inputs (e.g. fishery, fish feed, fertiliser, lime, probiotics, flocs), medication and maintenance for fish culture before engaging in fish farming. The Technical and Assistant Technical Officers visit the fish farms periodically, discuss the progress or problems with the members and offer solutions. They also refer participants to local fishery offices for necessary services.
In addition, the programme links participants with the local market players such as Bepari and Faria (wholesaler, intermediary, etc.) so that the fish farmers can sell their produce in the local market.
The initiative is already showing signs of initial success.
Rehena from Gabura union of Satkhira, a fish farmer under the programme, said, "Fish farming is very profitable. I received intensive training and worked hard to start fish farming close to my house and it paid off."