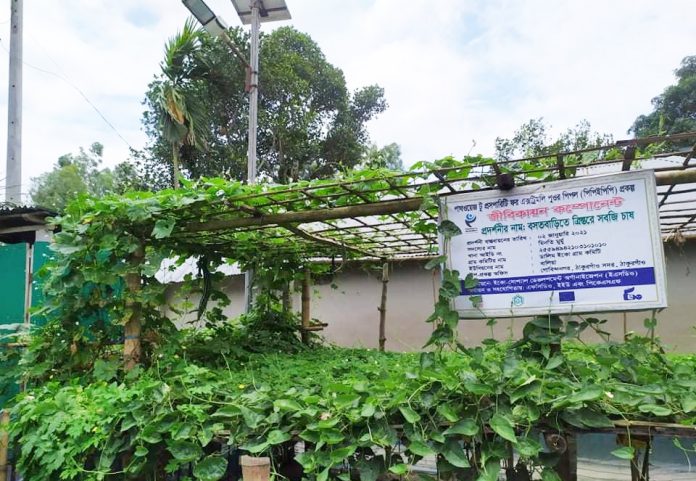 The Prosperity programme has undertaken a number of innovative initiatives to promote vegetable gardening and good health practices among its participants. Three-layer vegetable cultivation is one such initiative that promotes utilisation of whatever land the extreme poor households have in their homestead for vegetable cultivation.
The initiative aims to motivate extreme-poor people to make the best use of their homestead or other unused land to grow seasonal vegetables to meet the household's nutritional needs. They can also earn some extra money by selling the surplus vegetables in the local market or in the neighbourhood.
Under the initiative, participants grow different vegetables in three layers in their homesteads, allowing them to produce more vegetables simultaneously in a single season on the same land. Households having at least one decimal of land with adequate sunshine are selected for this intervention. The programme provides them with financial and technical support, including seeds and technical knowledge such as preparation of the bed for higher yield.
Participants are encouraged to cultivate vegetables that are relatively shed-tolerant under the entresols. On the other hand, creeping plants are grown on the first and second layers of the entresols. Technical officers and assistant technical officers of livelihoods component visit the households in rotation to provide technical assistance.
Using this technique, some popular vegetables being grown on the ground in different working areas include stem amaranth, water amaranth, red amaranth, taro/arum, brinjal, ginger, turmeric and sweet potato. Spinach, bean, cucumber, sweet bitter gourd and ridge gourd are cultivated on the first layer of entresol. On the other hand, bottle gourd, pumpkin, snake gourd and balsam apple are grown on the second layer.
Minati Murmu is one such programme participants from Balia union of Thakurgaon. Last season, they had a good yield of a variety of vegetables that met their household demands. They also earned some money by selling the surplus.
"We did not think we would get this much production on just one decimal of land. Encouraged by the result, many of our neighbours are now showing interest in three-layer vegetable cultivation," she said.