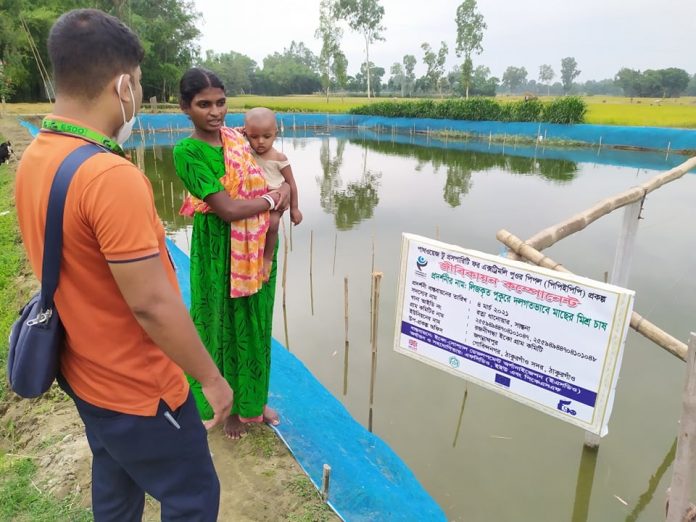 Fish farming is one of Prosperity's farm-based IGAs aimed at connecting extreme poor people with economic growth and set them on a sustained pathway out of poverty.
Apart from promoting fish farming at individual household level, the Prosperity project promotes cluster-based fish farming at community level.
Community fish farming aims to undertake moderate or large scale fish farming for commercial purpose and also meets the nutritional needs of the participant households.
The project supports establishment of group fish farming in Haor, Char areas and in coastal regions.
Prosperity participants interested in fish farming in group by taking lease of ponds or other water bodies and having a fair profit-sharing mentality are selected for selected for cluster-based fish farming.
Usually, two to three participants, both male and female, take lease of a pond measuring 15-33 decimals for at least two years for fish poly-culture.
Apart from financial support in the form of grants and flexible loan, the project provides the participants with intensive training on pond preparation, stocking, fish farm management, feeds and feeding management and fish fry collection. Participants are also provided with modern aquacultural techniques and fish species and pellet selection. 
Prosperity's Technical and Assistant Technical Officers supervise and monitor the fish farming activities and provide technical knowledge and support as necessary. They also encourage the members to continue the IGA by investing parts of their profit from the second year. 
Alongside fish farming, the project promotes vegetable cultivation on the pond dyke such as cucumber, balsam apple, bottle gourd, snake gourd, pumpkin, bean and asparagus bean for an additional source of income and household nutrition.
On an average, fish and vegetables sale from a cluster-based fish farm can fetch about 50,000 t- 60,000 in about six months. 
Halima Begum, 28, is one such fish farmer from Shovnali of Satkhira.