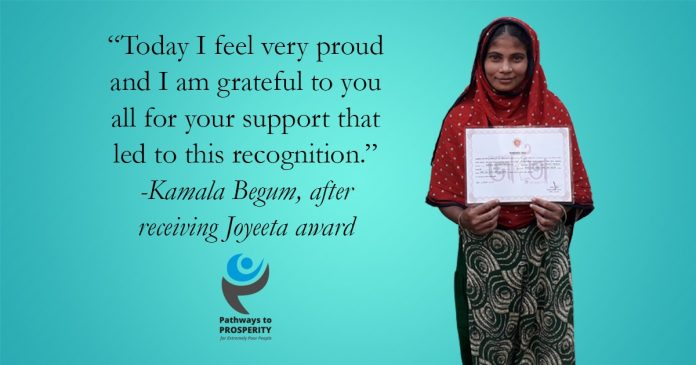 After years of financial hardship, Kamala Begum started a small broiler farm with 30 chickens with grant support from Prosperity project in 2020. The first two batches sold well, and she bought 120 broiler chicks with the profit. Luck did not favour her this time, and all her chicks died.
But Kamala, 30, refused to give up. She took a loan of BDT 40,000 from CODEC, a partner organisation of PKSF, to build a chicken shed where she can raise more chickens. With support and encouragement from her husband, a rickshaw puller with irregular income, she has turned the small farm into a small enterprise.
Today, she is the proud owner of a medium-scale farm having 400 chickens worth about BDT 85,000.
Her success has not only eased the financial hardship in her four-member family, it has also inspired her neighbours in Patuakhali's Galachipa union to build their own poultry farm. Many of them are making fairly good profits already.
In December 2021, the Department of Women Affairs in Galachipa recognised her contribution to inspiring community members through her hard work and entrepreneurship skills.
Commemorating the 'Begum Rokeya Day' and the 'International Day for the Elimination of Violence against Women,' the local administration has handed her the prestigious 'Joyeeta' award.
"Today I feel very proud and I am grateful to you all for your support that led to this recognition," said Kamala.