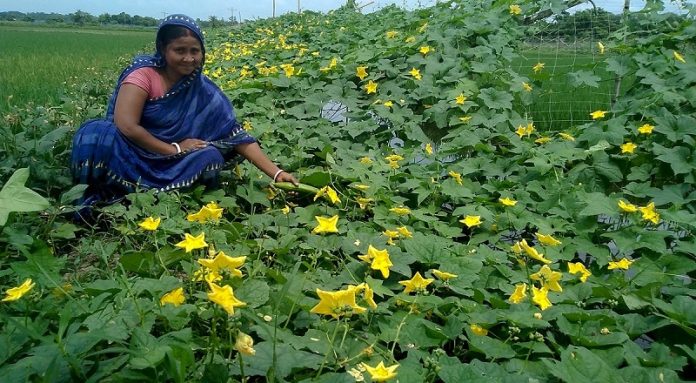 Mini pond-based vegetable cultivation is one of PPEPP-EU's many income-generating activities (IGAs) that promote vegetable gardening and nutritious food intake. Besides serving nutritional needs, this unique IGA is becoming a sustainable source of income for extreme poor households.

Sabia Khatun (38) from Satkhira's Kadakati Union is a PPEPP-EU member engaged in vegetable cultivation alongside fish farming in a mini pond, a climate-resilient farming technology especially suitable for saline-prone coastal working area of PPEPP-EU project. Last season, she had a good yield of vegetables and earned a significant amount by selling the produce in the local market. 

Sabia and her husband produced watermelon and pumpkin on a 15 decimal land leased for one year and earned around 66,000 Taka. Recently, they have taken a 30,000 Taka loan from the PPEPP-EU project to expand the amount of land and cultivate more vegetables in the coming season. 
"We are very happy with the production and the profit made from the sale. Now, we are hoping for a greater yield in the next season. In future, we want to make a bigger pond-based vegetable garden and create employment for others", she said.

Many, like Sabia in PPEPP-EU, are growing high-value vegetables by making the best use of the unused land beside a pond. Some popular vegetables being grown in different working areas include eggplant, watermelon, bean, cucumber, sweet bitter gourd, ridge gourd, bottle gourd, pumpkin, and snake gourd. 

Participants receive hands-on training on vegetable cultivation as well as seeds, fertilisers, pesticides and other input support. PPEPP-EU's technical and assistant technical officers visit participant households to provide hands-on technical assistance needed to ensure a good harvest.