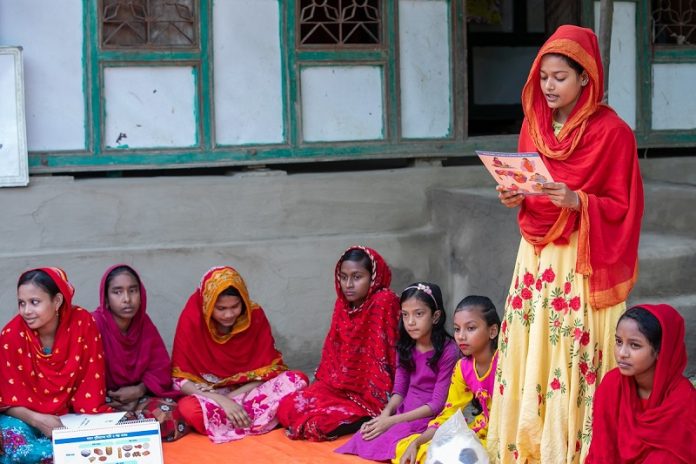 Leaving her childhood behind, Jhumur is getting married soon, in her early 15. Knowing about Jhumur's sudden forced marriage, the members of 'Samajik Unnayan Kendra' or 'Social Development Centre (SDC)', an adolescent club in Morelganj, Bagerhat, decided to visit her house. 

With the help of a local Union Parishad member, they convinced Jhumur's parents to quit her marriage. "I was broken down and helpless to know about my marriage. Now that I am going to school again and playing with my friends, it all became possible with the help of the SDC members", said Jhumur, who also became a member of that SDC later. 

In the PPEPP-EU project, the SDC is a club formed separately with adolescent girls and boys to unite them to play a part in community development. Previously known as 'Kishori/Kishore (adolescent) Club', the SDCs were first set up about three years ago under the PPEPP-EU's legacy project PPEPP. 
Till now, 360 SDCs have been formed with 7775 members, generally primary and high school students, operating in all the working unions of PPEPP-EU. 

PPEPP-EU's project staff impart intensive knowledge to the club members regarding primary healthcare, nutrition, child marriage and dowry prevention, climate change, women's rights, leadership development, as well as other contemporary issues. 

The young girls and boys are now transforming their learning into changing the notions and behaviour of their families and community people by performing social activities under the supervision of PPEPP-EU's partner organisations. 

SDC members have set up 307 'Pushti Bagan' (Vegetable Garden) and take care of the whole process with technical knowledge from the project staff. In addition to their own use, the 'Pushti Bagan', also helps them to generate fund from the sale of surplus vegetable produces for the future sustainability of their clubs.
Members of SDCs take part in recreational and sports activities at the club premises, such as Badminton, Handball, different local games, quizzes and open writing competitions and brainstorming sessions. Occasionally, they engage in plantation, distribute saplings and organise blood grouping campaigns in their community. 

The young members of SDCs often indulge in reading books of different genres around the world gathered in the library run by themselves in their clubroom. 
Ashmim Akhter, a class-ten student from Patuakhali, shows great confidence in her words to keep up all the good work and continue with SDC's activities. "We enjoy and feel proud of what we are doing as members of the SDC. We find it an opportunity to stand together against all the social odds and serve our community. We want to extend our activities even further", said Ashmim, the group leader of 'Shapla SDC' in Aamkhola, Golachipa. 

PPEPP-EU anticipates upskilling SDC's members about disseminating knowledge and creating social awareness on nutrition and health issues in their community.