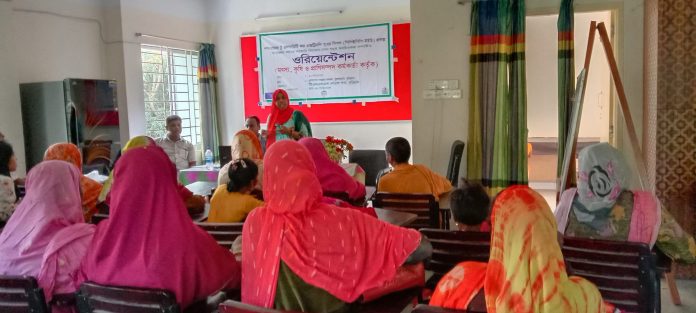 The PPEPP-EU project strengthens the long-built relationship with local government and non-government organisations to ensure smooth access of its extremely poor members to various services.
Building on the already established network of its legacy project — PPEPP, the PPEPP-EU project now concentrates on enhancing the service delivery for its members by strengthening their connections with local livestock, fisheries, agriculture and other related officers of the Government.
PPEPP-EU's implementing partners are organising separate meetings with Upazila-level Livestock, Fisheries and Agriculture Extension Officials to avail government services, vaccines and other input materials. During the recent meetings organised by SKS Foundation and TMSS, two of the implementing partners in Gaibandha and Kurigram, the officials informed about the government services and reiterated their commitment to serve the PPEPP-EU members.
The Upazila livestock, fisheries and agriculture extension officials, PPEPP-EU project members under different platforms (PVC, Mother and Child Forum, Adolescent Club and Disability Forum), Project Coordinators, Technical Officers (TOs) and Assistant Technical Officers (ATOs) of these two sub-districts, Fulchari and Bhurungamari, participated in the meetings.
As a result of the linkage-building meetings, the officials provide information on the latest agricultural technologies and offer solutions to participants' technical issues, such as building cowsheds, managing fodder, and preparing and maintaining fish ponds. They provide hands-on training to the project participants on developing income-generating activities related to livestock, fisheries, and agriculture.
This connection also paves the way for the participants to avail inputs such as seeds, fertilisers, pesticides, and medicines from local agricultural extension departments. The extension officials often inform the households about the availability and prices of the required inputs in the local market.
The agriculture extension officials advise on suitable cultivation techniques, technologies, and pesticides for various agricultural products such as paddy, wheat, potato, tomato, brinjal and mustard. The livestock extension officials provide vaccines and de-worming tablets for cattle and poultry and visit households to provide suggestions and guidance to participants.