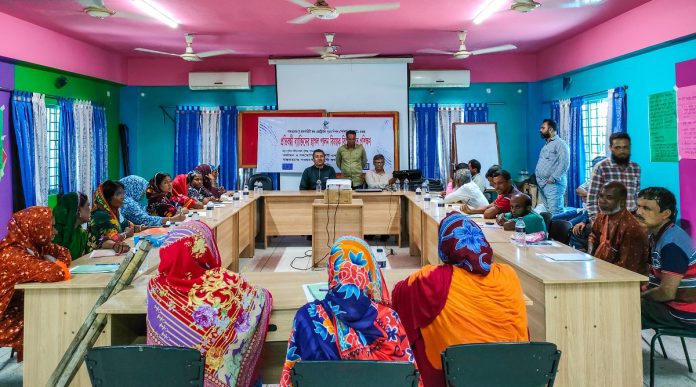 Global studies show that the employment rate for Persons with Disabilities (PWDs) is substantially lower compared to those without disabilities in developing economies. Bangladesh's situation is even worse, topped with exclusion from mainstream development activities such as access to health, education and other services.
In the PPEPP-EU project, we create sustainable income-generating opportunities for the project participants and their family members identified as persons with disabilities. Starting this month, PPEPP-EU is organising a series of specialised training on Livelihoods for persons with disabilities across the project's four working regions.
Nowabenki Ganamukhi Foundation (NGF), an implementing partner of the PPEPP-EU project, recently organised a three-day residential training on goat rearing for PWDs at Sushilan Tiger Point, Munshiganj in Shyamnagar Upazila of Satkhira. As many as 20 PWDs took part in the training held from July 24-26, 2023.
The specialised training imparted knowledge and developed skills on a range of livelihood options, considering the capability and suitability of the PWDs. The training is being held exclusively for potential PWDs willing to be engaged in IGAs, with a set of tailored and well-articulated course outlines and relevant training materials.
As part of hands-on sessions, participants visited a nearby PWD household that has already been successful in adopting an IGA, and listened to their stories about making the pathway out of poverty through livelihood engagement.
One of the key objectives of the training is to engage all the PWD participants in appropriate income-generating activities (IGAs) in accordance with their skills and abilities soon after they receive the training. Apart from, appropriate skills training, the project provides the PWDs with grant and loan support along with necessary technical assistance. Parallel to IGA involvement, many of the PWDs are also supported by the Government safety net programme.
The PPEPP-EU project aims to make persons with disabilities self-reliant, able to contribute to their household income and involved in the decision-making process within the family and community at large.