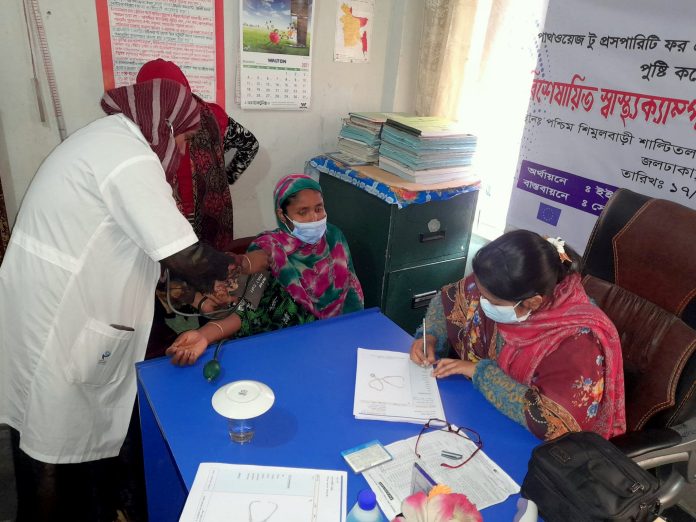 Monowara Begum had long been suffering from burning eyes to an extent that it blurred her vision. An extreme poor woman from Satkhira's Munsiganj union who struggles to feed her family with her meager earning, she is unable to afford a treatment. This led to further complication, and the pain in her eyes turned unbearable.
Recently, Monowara visited a Prosperity eye camp where doctors prescribed some medicines and gave her a pair of eyeglass for free.
"I can now see much better with the help of this glass," said Monowara, 55.
Health camps like these are proving to be a big support for extreme poor people who have no means to afford their eye treatment, which is often expensive. Health camps under Prosperity project are aimed at bringing primary healthcare services to the doorstep of its members.
Under the initiative, downstream partner organisations organise specialised gynaecology and child health camps as well as eye camps across the 145 working unions of 12 districts of Bangladesh that face frequent climate shocks, further complicating the existing poverty situation in those areas.
The health camps are usually organised in remote areas where there are no healthcare facilities (e.g. Community Clinic, Upazila Health Complex, etc.) or the existing facilities are not fully functional.
These health camps are organised with the help of locally available specialised doctors, who are supported by the project's trained nutrition staff and health workers. Project participants can avail reproductive healthcare services and other basic treatments and medicines for minor health issues that affect people of all age groups, including pregnant and lactating mothers and adolescent girls.
Specialised eye camps provide primary treatments to patients, mostly elderly people, suffering from cataracts, glaucoma, keratitis and retina diseases, nyctalopia and ophthalmia.