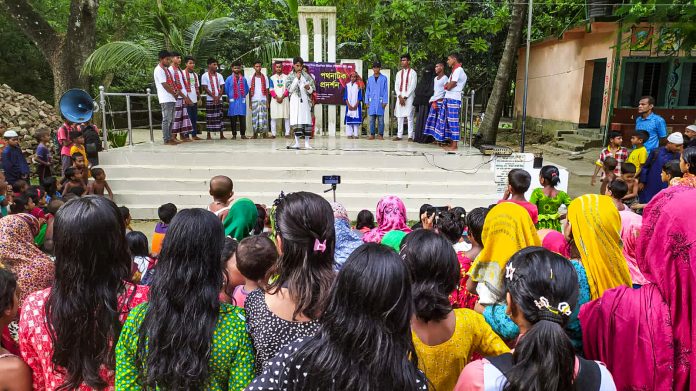 Rubina Begum (24), from Velumia Union of Bhola Upazila, Barisal, just watched a street play in the local market in her community and came to know about the downsides of child marriage.
'I was married at 14, so I know how difficult it was for me to take over a new family at that age. After watching the drama, our community people now realise that child marriage threatens their well-being. I think we should be determined to prevent it at any cost in our community,' said Rubina after enjoying the play.
With the participation of a locally formed street theatre group, Grameen Jana Unnayan Sangstha (GJUS), a partner organisation (PO) of the PPEPP-EU project in Bhola district, organised a series of street plays in different working unions. These shows engage the local community, particularly the women, adolescents and school-going children, to disseminate important messages on contemporary issues.
Street theatre or street play, a popular medium to convey critical messages to a large group of community people, was first introduced by the PPEPP-EU project last year. This widely used performing art tool is used to sensitise local people, including project members, create community ownership and raise the local voice on various social, gender, health, disability and climate change issues through stage plays.
The topics of these street plays vary from a range of prevailing social issues and community problems, such as disaster preparedness, access to government services, child marriage, dowry and drug addiction, which are also related to PPEPP-EU's different components.
The street shows are staged in public places such as local markets, schools, Union Parishad premises, and street corners for about 30 to 40 minutes and are followed by an engaging discussion with the audience.
The project has formed 15 theatre groups, each comprising around 16 to 20 performers who are unpaid volunteers, mostly from the community or various social platforms established under the project, such as the Social Development Centre.
After watching a show on drug addiction organised by Gram Bikash Kendra (GBK), Bahamomi Murmu (37), a PPEPP-EU participant from Ghoraghat Upazila, Dinajpur, said, 'We have learnt how the drug reduces our energy and working hours and how we can resist ourselves from drug addiction.'
So far, PPEPP-EU's implementing partners have staged 149 street plays in different unions, which have become a popular and effective platform for sensitising the mass community.