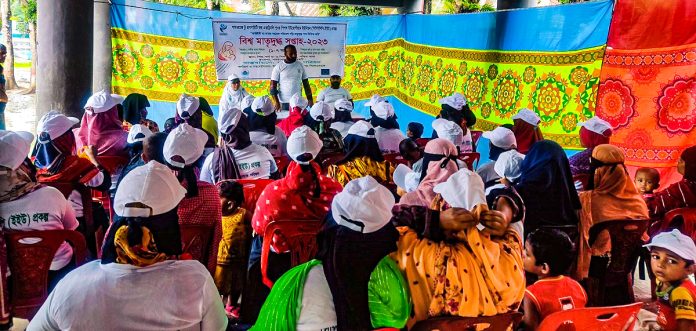 The exclusive breastfeeding (EBF) rate in Bangladesh has decreased to 55% in 2022 from 65% in 2018, according to the latest study by the Bangladesh Demographic and Health Survey (BDHS). Only 40% of newborns are breastfed within the first hour of birth, although the statistic was much higher at 69% in the 2017-2018 edition of the study.
Despite being widely recognised that breastfeeding helps build a child's growth and contributes to a mother's overall health and well-being, the study reveals a significant decline in the country's breastfeeding rate.
Like every year, intending to raise awareness about the benefits of breastfeeding and encourage mothers to breastfeed their babies, the PPEPP-EU project celebrates 'World Breastfeeding Week' from August 1st to 7th, 2023.
Marking the week, the project carried out a series of activities centring around the 2023 slogan, 'Enabling Breastfeeding: Making a Difference for Working Parents.' The project also participated in different activities undertaken by the government at district and Upazila levels through its 19 implementing partners across the 145 working unions in 12 districts.
During the week, PPEPP-EU organised grand rallies to sensitise the community, open dialogues on the benefits and importance of breastfeeding, quiz competitions among the participants and sports and cultural programmes participated by members of different platforms.
These activities created awareness among pregnant and lactating mothers and women of childbearing age on the prevailing superstitions and the importance of exclusive breastfeeding and early initiation of breast milk. Participants were informed that breast milk helps develop the child's intellectual abilities, physical and mental growth and natural eyesight.
The activities were organised under the project's various platforms, such as Mother and Child Forums, Prosperity Village Committees (PVCs) and Social Development Centers. PPEPP-EU's technical officials also work to create awareness to ensure breastfeeding for newborns through these platforms' regular sessions and during household visits.
Nasima Khatun (27) could not breastfeed her 45-month-old first child. 'After joining the breastfeeding week, I now realise how big a mistake that was (not introducing EBF). I will ensure and continue breastfeeding to my second child and inform my neighbouring mothers-to-be about the importance of early breastfeeding', said Nasima, an expecting mother from Terokhada, Khulna.