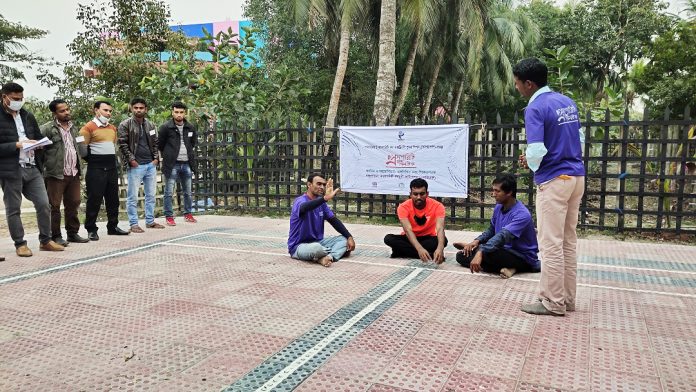 Street theatre or street play is a widely used performing art form to directly confront various social issues and convey a message to the crowd watching it. Prosperity project uses this engaging tool to build awareness on various social, health, rights and climate change issues to disseminate critical messages through stage plays.
Topics of the street plays are determined considering the prevailing community problems and are related to different project components such as resilient livelihoods, nutrition, access to services, disaster management, disability mainstreaming and gender balance. Other social issues addressed through street plays include the negative consequences and prevention of child marriage, dowry, and drug addiction.
The 20 to 25-minute shows are staged in public places such as the Union Parishad, marketplaces, schools, and busy street corners to ensure maximum outreach.
Performers are unpaid volunteers who are either community people or members of various forums and clubs (Maa o Shishu Forum, Kishor/Kishori Club, Young Volunteers, etc.). Such community engagements ensure community ownership on the one hand and gives a local voice to the issue-based plays.
Each play is followed by an engaging discussion among the audience, which helps to drive home the message of the play more clearly through sharing and learning from each other.
Nawabenki Gonomukhi Foundation (NGF), an implementing partner organisation of the Prosperity project in Shyamnagar, Satkhira, recently organised a series of street plays in local markets and school premises in Satkhira, focusing on pre-disaster preparation at community level and access to government services.
It was the first time that Afroza Begum, 34, watched the first street plays of her life. Watching these plays, she came to know, also for the first time, that there are various government support programmes for different vulnerable groups, such as persons with disability and elderly people, two priority groups under the Prosperity project.
"There are some persons with disabilities and elderly people in my neighbourhood, but they do not know about the disability or old-age allowance. Now that I know, I will go tell them to communicate with the Union Parishad for the allowances," said Afroza.