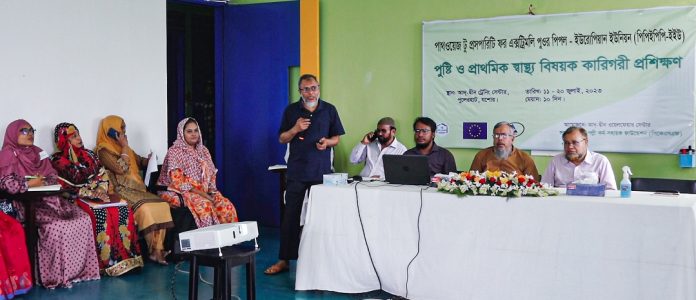 The Pathways to Prosperity for Extremely Poor People-European Union (PPEPP-EU) project has begun training 165 Technical Officers of 19 Partner Organizations on Nutrition and Primary Healthcare to enhance their skills for service delivery.
The training programme was inaugurated on 11 July 2023 in Ad-din Training Centre, Jessore, in the presence of PPEPP-EU Project Director Dr Sharif Ahmed Chowdhury as the Chief Guest, Ad-din Welfare Chairman Dr Muhammod Abdus Sabur as the Chair and Civil Surgeon Dr Biplab Kanti Sen as the Special Guest.
Addressing the trainees, Dr Sharif Ahmed Chowdhury expressed his hope that the knowledge gained from this training would be effectively applied in the field to improve the health and nutrition conditions of impoverished individuals.
The training covered various topics, including:
The National Nutrition Services (NNS) implemented by the government of Bangladesh.
Promotion of 16 Direct Nutrition Interventions (DNIs) by the government.
Nutrition-sensitive activities aimed at improving overall nutrition and well-being of targeted extremely poor households.
The intersection of nutrition and food security among different strata of extremely poor HHs.
Fundamental concepts of food and nutrition and their relevance in improving nutritional status of extremely poor HHs.
Infant and Young Child Feeding (IYCF) practices and nutritional considerations for addressing adolescents' health and wellbeing.
Nutritional considerations for pregnant and lactating women, the elderly, adolescent girls and individuals with disabilities.
Identifying the causes and factors contributing to malnutrition among extremely poor HHs.
The anthropometric measurements for assessing nutritional status of under-five-year-old children, adolescent girls and women of reproductive age.
Antenatal and postnatal care for maternal and child health.
Family planning initiatives and their role in improving nutrition outcomes.
Nutrition and Primary Healthcare is one of the core components of PPEPP-EU project which seeks to tackle the intergenerational poverty by addressing malnutrition through nutrition-sensitive and nutrition-specific interventions.