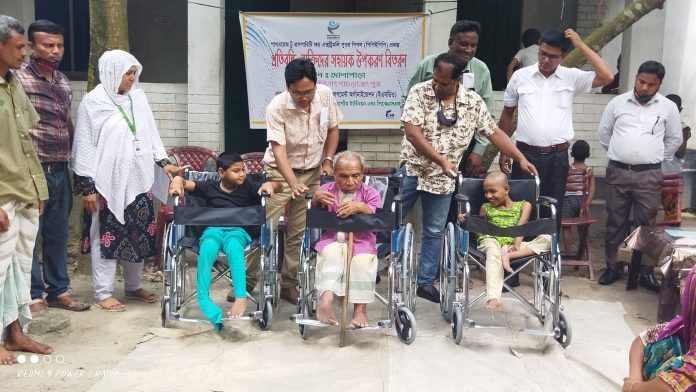 Close to 7% of the PPEPP project participants or their family members have one or the other form of disability. However, a large number of them are fully capable of engaging in income-generating activities – they only need appropriate assistive devices to move and communicate.
Md Salahuddin (28), from Bhelumia union of Bhola Sadar, is one of them. He broke his backbone a few years back and became paralysed after an accidental fall from a tree. Otherwise healthy, Salahuddin was forced to confine to his room as he cannot walk anymore.
Last month, he received a tricycle from Palli Karma-Sahayak Foundation's (PKSF) PPEPP project and now can move freely and perform his daily household chores sitting on this tricycle.
"I want to open a small shop beside my house and contribute to my family income as it is difficult for my elder brother to support our eight siblings alone," said Salahuddin, whose father died several years ago.
PPEPP project supports and mainstream persons with disabilities like him by providing them with the appropriate assistive devices under Disability Inclusion component. These include wheelchair, tricycle, hearing aid, stick, white stick, crutch and special black sunglass.
Depending on the type and intensity of physical inabilities of the persons with disabilities, these devices help them to move, hear, see and eventually engage in different IGAs that are suitable for them.
Many participants and their family members who received assistive devices are now contributing to their families by performing household chores or engaging in income-generating activities.
Under the project, nearly 16,000 households having more than 17,000 PWDs have been organised and reached with livelihoods, nutrition and social mobilisation support.