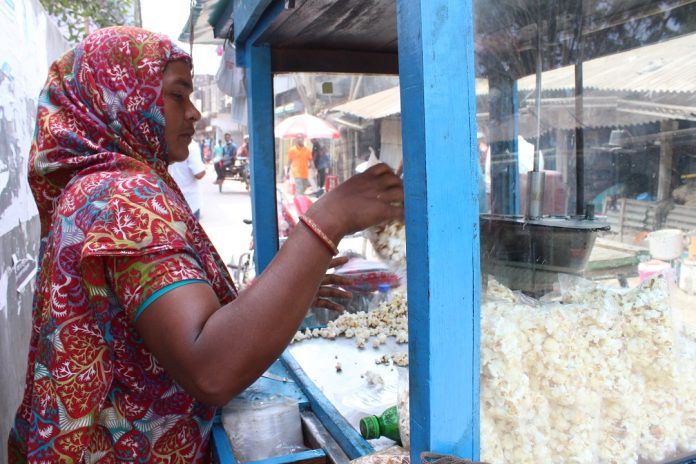 Despite engaging in different income-generating activities, many extreme poor people fail to make significant gains from any of these for a lack of financial means to scale up.
Shahinur Begum (45), from Khulna's Dacope, is one of those living in a climate-vulnerable area, frequently fighting cyclone, tidal surge and salinity, where livelihood options are minimal. Years ago, she started her popcorn business at a time when her family became destitute having lost everything to river erosion.
She was drawn to this particular trade having been encouraged by a local man, himself a popcorn seller. The man taught her how to make this popular snack that is also affordable. Although she mastered the skills quite well over the past seven years, she often ran out of cash to buy the raw materials — corn, spices, oil, testing salt and coriander powder.
Mother of one daughter who was married off five years ago and a 23-year old son with mental disability, Shahinur continues to run the popcorn business with her little capital to contribute to the meagre family income. Her husband, who was jobless previously, now works at a local sawmill and helps Shahinur buy the raw materials from the local market. Shahinur wished she had a little more money to buy adequate raw materials and set up a good looking shop.
In early 2022, Shahinur received that much-needed initial push from Palli Karma-Sahayak Foundation's (PKSF) PPEPP project in the form of a grant. It helped her procure sufficient raw materials for her popcorn business. She also received a three-wheeler – her new mobile shop – to sell popcorn by roaming the neighbourhood.  
Now, both her production and profit have significantly increased. On a typical day, her sells stand between BDT 500 and 700 with 50% profit margin. During festivals and public gatherings such as fairs and ceremonial events, she can sell popcorns worth BDT 4,000-5,000 per day.
"I am not worried about capital or raw materials anymore. I can now concentrate on increasing my sales as the demand rises day by day."
PPEPP project offers a variety of agro product processing- and marketing-based livelihood options (e.g. popcorn, fuchka, dried fish, ready-to-cook food, etc.) to interested and experienced extreme poor members like Shahinur to create employment for them.
The project provides financial and technical support to the participants along with forward and backward market linkage support.