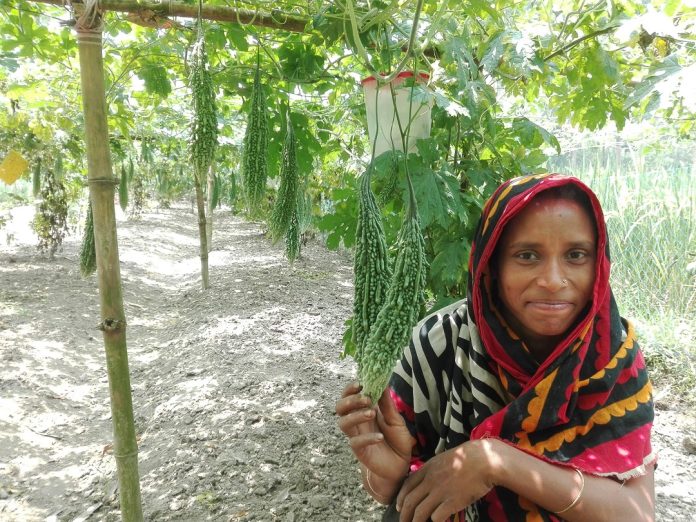 High-value vegetable cultivation is one of PPEPP's initiatives to promote nutritious food intake and good health practices. This mostly grants-based support serves two purposes – meeting the nutritional needs of extreme poor households and contributing to the family income by selling the vegetables.
The proceeds from the sale is then used by the participant households to grow more vegetables on their own in following seasons and multiply their income.
Under the initiative, project members are encouraged to make the best use of their homestead or other unused land or lease 15-20 decimals of land to grow high-value seasonal vegetables. The project provides seeds, fertilisers, pesticides, and other input support and technical knowledge on bed preparation, fertiliser application and pest prevention for higher yields.
Technical and assistant technical officers of the livelihood component periodically visit participant households to provide hands-on technical assistance needed to set up the vegetable gardens.
Some popular vegetables being grown in different working areas include potato, tomato, eggplant, bottle gourd, cauliflower, pumpkin, cabbage, spinach, ginger and turmeric.
Rahima Begum (43) from Patuakhali's Rangabali union has earned, after household consumption, around BDT 15,000 from the sale of her surplus vegetables.
"I am happy with the yield and the earnings from the sale of my vegetables. I expect a greater yield next season when I plan to buy some chickens with the profit," she said.