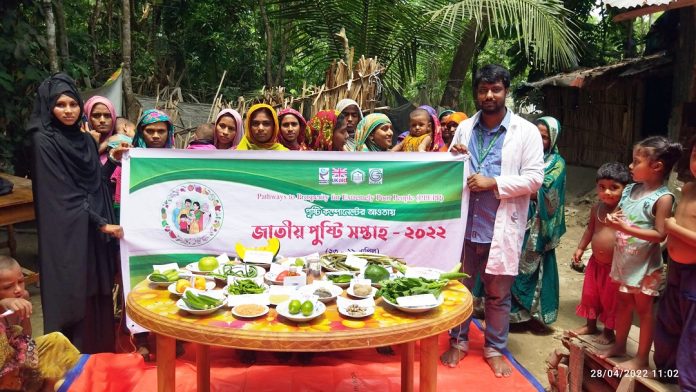 Like every year, the government observed the National Nutrition Week from 23-29 April under the slogan 'Healthy Life with Proper Nutrition'. Throughout the week, different government agencies undertook various programmes to create mass awareness on good health and nutrition practices.
PKSF's PPEPP project also observed the Nutrition Week by participating in different activities undertaken by the government at district and upazila levels. The project also organised a range of activities under its various platforms such as Prosperity Village Committees (PVCs), Mother and Child Forums and Adolescent Boys/Girls Clubs.
Marking the week, the project carried out the following activities across the 145 working unions under 34 upazilas in 12 districts where poverty rate is high:
✔ Provided a range of health and nutrition services to extremely poor households through Satellite Clinics, especially focusing on health and nutrition services for pregnant and lactating mothers, young children and adolescent girls.
✔ Health and Nutrition Display: Display of nutritious food, ideal food cooking process, Infant and Young Child Feeding (IYCF) and proper hand-washing techniques at different project platforms.
✔ Organised daylong Nutrition Fair and Cultural Programmes, including open dialogues on nutrition, display of nutritious food, providing health and nutrition services, health-related quiz and essay competitions.
✔ Organised street theatres on health and nutrition issues.
✔ Engaged project participants with different activities and services organised by the government at local healthcare facilities such as Upazila Health Complex, Community Clinics and the government's satellite centres.