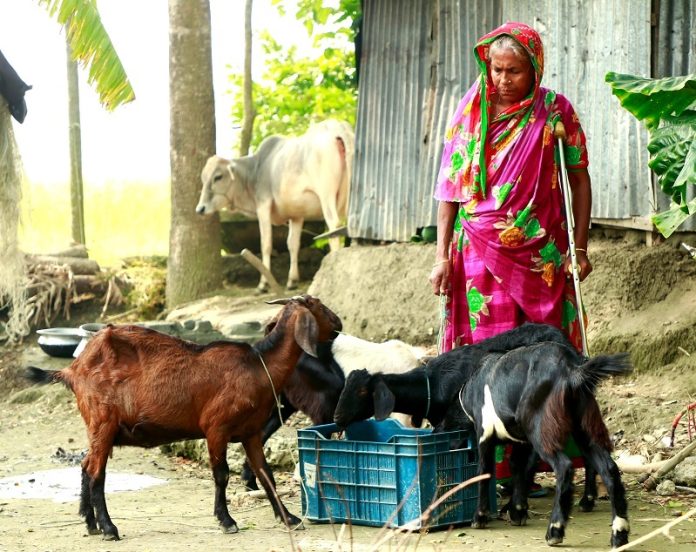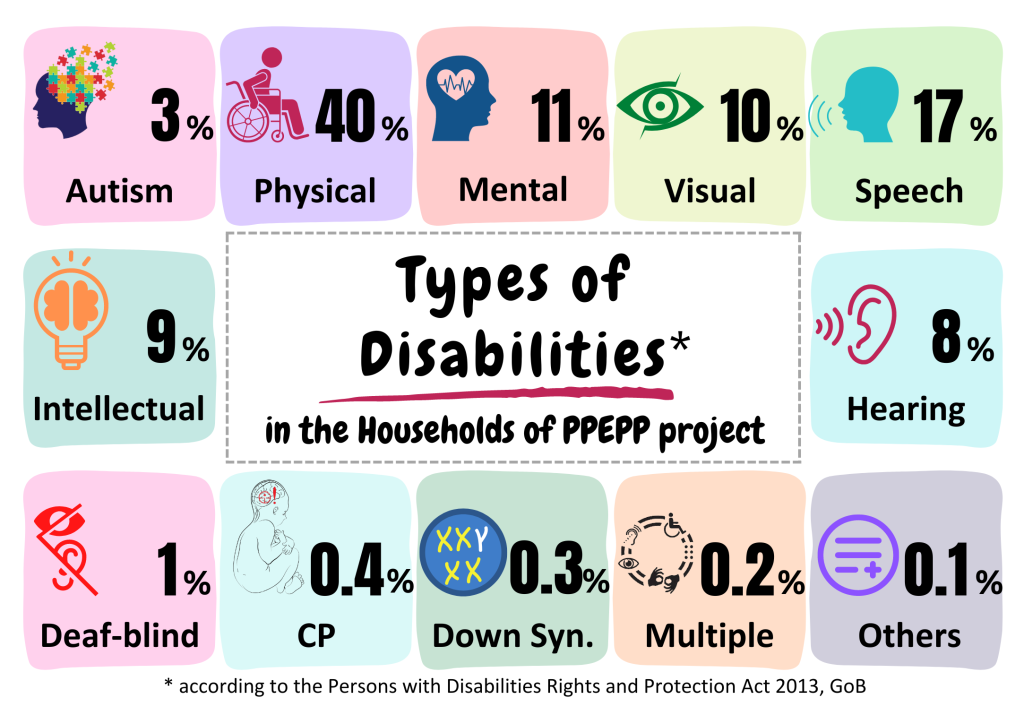 Global studies show persons with disabilities (PWDs) face discrimination and, as a result, extreme poverty. Their employment rate is substantially lower compared to those without disabilities in developing economies. They are often excluded from mainstream development initiatives as they find it difficult to access health, education, housing and livelihood opportunities. Women, children and girls are the most vulnerable among them. In Bangladesh, around 10% of the total population are said to have disabilities, although some put the figure at a little higher.
PKSF's Pathways to Prosperity for Extremely Poor People (PPEPP) project includes persons with disabilities on a priority basis for their financial, physical and mental wellbeing. The project adopts a twin-track approach to mainstream disability in the development agenda and empower persons with disabilities by introducing disability-specific interventions. For mainstreaming persons with disabilities, PPEPP engages them with income-generating activities (IGAs) along with necessary skills training, provides health and nutrition services. The project also ensures their access to support services (such as healthcare and livelihoods), social safety net programmes and assistive devices. Creating mass awareness about disability related issues is another focused intervention to promote disability rights.
Disability-inclusive growth through mainstreaming
PPEPP creates opportunities for sustainable income-generating activities for persons with disabilities, in accordance with their skills and ability. The project provides appropriate skills training before engaging them in IGAs through grants and loan support along with technical assistance. Our Results-based monitoring data show many persons with disabilities are now self-reliant having been engaged in IGAs, and are contributing to their household income and decision making process.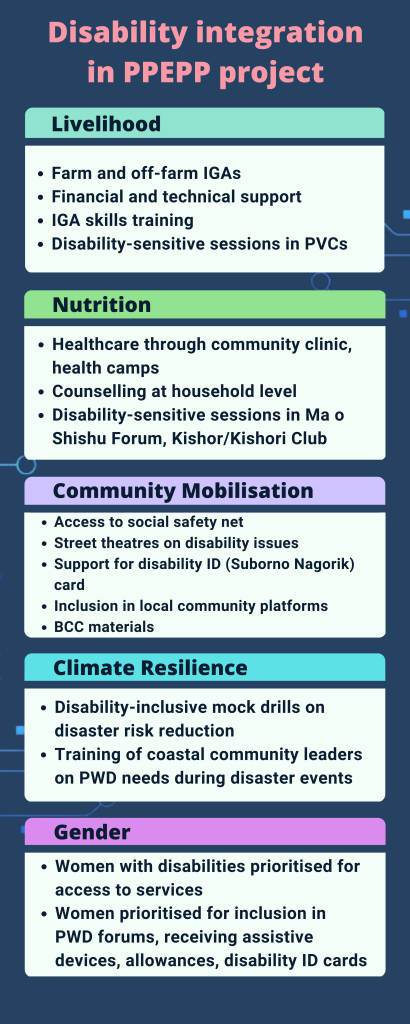 Among other things, the project:
offers IGA, health and nutrition-related services for persons with disabilities
provides disability-specific health support through health camps (e.g. eye camps and cataract surgery)
distributes assistive devices to improve their mobility and communication
ensures linkage support for access to healthcare facilities
ensures social safety net allowance through linkage building
Our trained nutrition staff arrange consultation meetings with the persons with disabilities and their family members and provide necessary mental support to the persons with disabilities. Also, as members of different platforms, the persons with disabilities and their family members are sensitised about good health practices through awareness campaigns on health and nutrition (e.g., nutritious food intake, healthcare and hygiene). Such awareness sessions also help bring positive changes to the prevailing social attitudes and prejudices regarding persons with disabilities.
The project also focuses on establishing disability-related behaviour change communication (BCC) mechanisms. As part of sensitising the community on disability issues, the project organises street theatres on the rights and opportunities of persons with disabilities. It includes them in various local committees and meetings, such as Union Parishad Standing Committees and Ward meetings. The project also distributes BCC materials (e.g., posters and flipcharts) on preventing disability and access to public services. For community awareness, the project observes International Day of Persons with Disabilities every year across the working areas.
For the persons with disability households most vulnerable to natural disasters, the project organises separate training for the coastal belt community leaders, mostly for the Cyclone Preparedness Program Volunteers, to make them aware of the needs and services required for persons with disabilities in the pre-disaster, during-disaster and post-disaster scenarios.
Access to services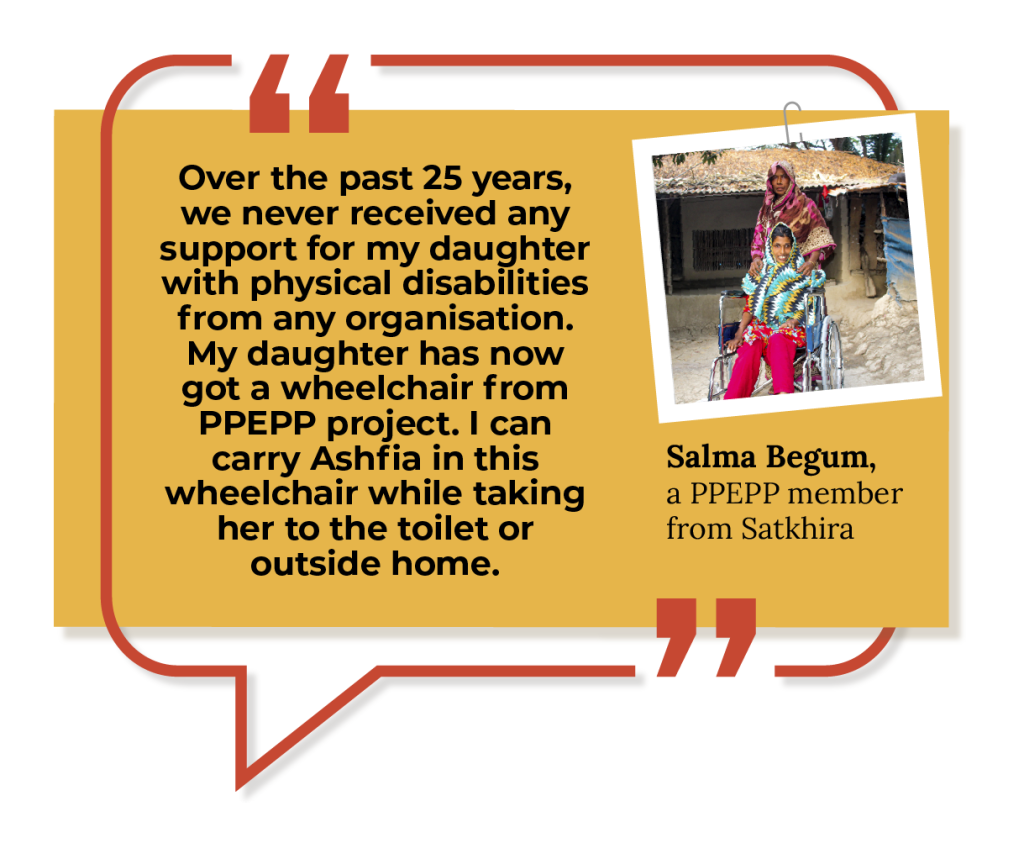 PPEPP's household survey in 188 unions of 15 districts shows nearly half the persons with disabilities are outside the national safety net coverage. To address this, the project links persons with disabilities with local service providers such as Union Parishad, Upazila Social Welfare Office and Upazila Parishad to facilitate their access to the social safety net programmes. The project also links them with healthcare and other government services.
A disability identification card, also known as 'Suborna Nagorik' card, is mandatory to avail various disability-related government services. Many extremely poor persons with disabilities miss out on required services due to not having this card. The project helps persons with disabilities apply for the 'Suborna Nagorik' card and works closely with the local authorities to expedite issuance of the card.
Empowerment through inclusion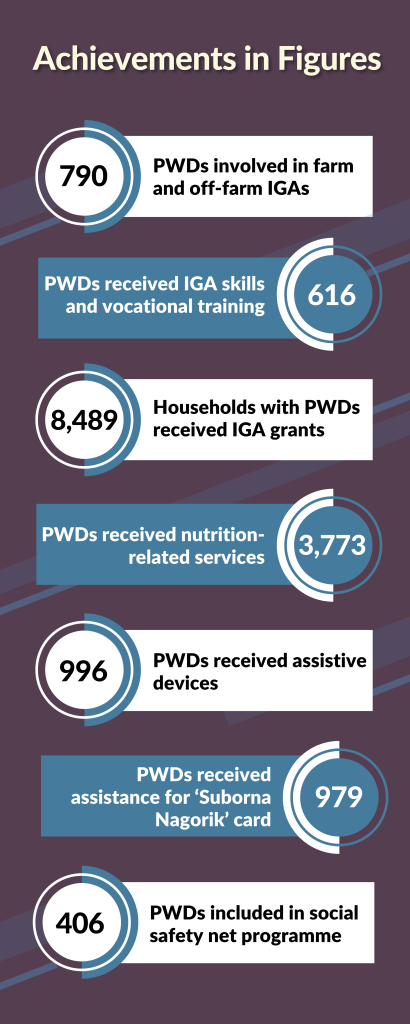 The project used the Washington Group Short Set of Questionnaire to identify the functional limitations of persons with disabilities in light of the Bangladesh Government's Department of Social Services questionnaire.
To support the selected persons with disabilities, PPEPP has established 60 persons with disability forums and organised 912 persons with disabilities under these forums to help develop their leadership skills. Forum members organise monthly meetings to discuss their needs and priorities and the challenges they face to access the services they require at the household, community, and institutional levels. These forums also hold separate sessions on various aspects of disabilities, good health and nutrition practices, safety net, IGA implementation and awareness. These forums are key players to initiate disability related grassroots level advocacy to promote disability inclusion in the field.
For mainstreaming the disability issue, the project has organised 7,466 persons with disabilities under different Prosperity Village Committees, which are at the heart of all programme services. Of them, 142 children with disabilities are organised under adolescent clubs and 102 mothers of children with disabilities under Mother and Child Forum.