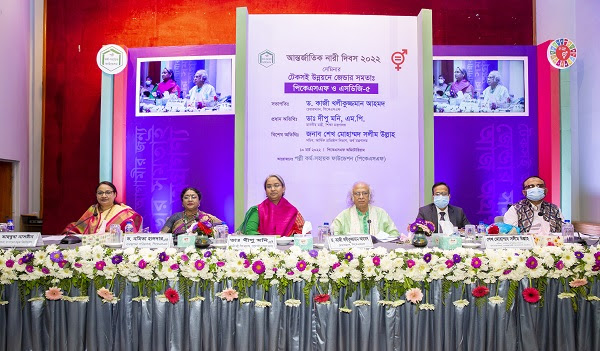 With a renewed commitment to further minimise gender discrimination, PKSF held this year's International Women's Day with much funfair, linking the day with SDG-5 which seeks to end all forms of discrimination against all women and girls everywhere.
The nearly three-hour event was organised at PKSF Bhaban on March 10, with Education Minister Dr Dipu Moni, MP, speaking as chief guest and PKSF Chairman Dr Qazi Kholiquzzaman presiding over the programme.
Sheikh Mohammad Salim Ullah, secretary, Financial Institutions Division (FID), Ministry of Finance, was present as special guest. Dr Niaz Ahmed Khan, pro-vice chancellor of Independent University, Bangladesh, and Dr Mahbuba Nasreen, pro-vice chancellor of Bangladesh Open University, were present as panel discussants.
The programme was attended by nearly 500 participants (in person and through Zoom), including government officials, PKSF staff, representatives from partner organisations and development experts. The event was aired live on Facebook.
Presenting the keynote paper, Dr Nomita Halder ndc highlighted the many progress that Bangladesh made so far in terms of SDG 5 and the many areas where PKSF is contributing to achieving gender equality through its core programmes and short-term and long-term projects.
Speaking about the position of women at job placement at PKSF, she said more than 10% of its core staff members are women.
At the partner organisation-level, 29% of the overall staff members are women, with 38% of them holding executive positions, she added.
But there is still a long way to go, she said, and added that women have to bear a disproportionate burden in household, at workplace and elsewhere.
"Why does the mother have to take leave every time the child is sick? The mother is forced to take leave…. Women are being portrayed negatively over and over again because she often takes leave and does not go to the office. We talk about equality time and again, but how will equality be established if we cannot provide impartiality and fairness?" Dr Halder said.
Moderating the session, Dr Qazi Kholiquzzaman said PKSF places human and human dignity at the centre of all its activities and makes an all-out effort towards women empowerment.
"In fact, we do all our work on the ground through women. There was a time when 96% of our borrowers were women. First they would hand that money over to their fathers, then to their husbands and then to their sons. They had no role in how the money would be used. But things have now changed a lot," he said, adding, "We have been able to create a numerous number of women entrepreneurs."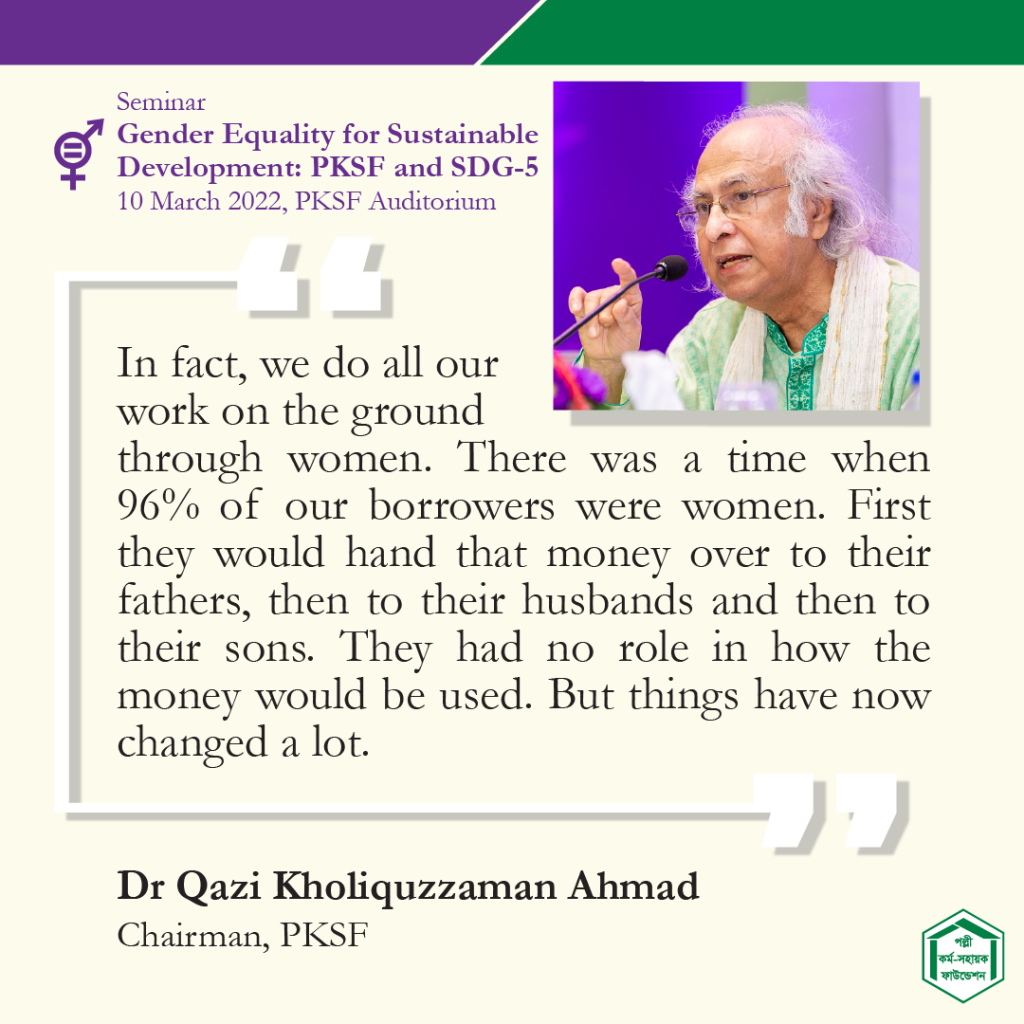 Taking a dig at gender stereotypes, Dipu Moni said household chores such as cooking, sewing and cleaning are considered women's jobs, but when money is added to the equation, they become men's jobs.
"For example, who are your chefs? Men. Tailors? Men. Cleaners? Men. Because money is involved with these activities and suddenly everything changes. It's a creation of society," she noted.
The education minister also pointed out that despite the progress women have made in Bangladesh, they still lag behind in terms of holding decision-making positions.
"It's true that our Prime Minister, Speaker, Deputy Leader and Leader of Opposition in parliament are all women. Still, women's participation in decision-making is far too low," she said.
FID Secretary Sheikh Mohammad Salim Ullah also underscored the need for increasing women's participation at decision-making level, but also highlighted the dramatic change in their empowerment scenario over the decades.
"Who says women are lagging behind? There was a time when not too many women would get an education. They were confined to their homes, doing only household chores…. But look around today. Name a place where they are not present. They are working in the police, in the army, in the navy, in teaching. You find them everywhere," he said.