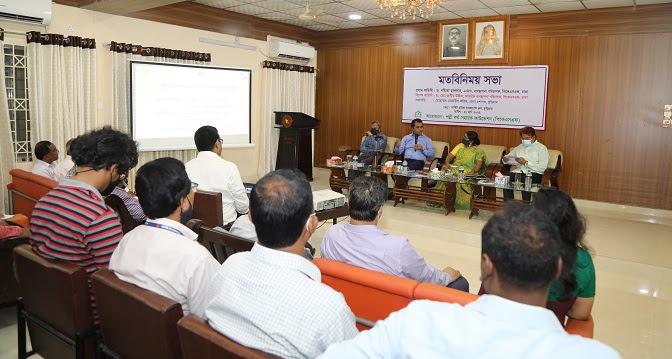 Palli Karma-Sahayak Foundation (PKSF) held a view-exchange meeting with the Kurigram district administration at the district Circuit House on 21 March 2022. PKSF Managing Director Dr Nomita Halder ndc attended the meeting as chief guest while PKSF Additional Managing Director Dr Md Jasim Uddin as special guest. Kurigram Deputy Commissioner Mohammad Rezaul Karim chaired the meeting.
Besides, a four-member technical team led by Dr Sharif Ahmed Chowdhury, General Manager, PKSF, participated in the meeting. The meeting was also attended by the executive directors and senior officials of different partner organisations of PKSF working in Kurigram and senior officials of various government departments and divisions.
The Kurigram DC delivered the welcome speech as well as a presentation on the district's current poverty context as well as the measures being taken by the government to address them.
In the light of different steps taken by PKSF in poverty reduction and learnings from different projects and programmes, Dr Sharif Ahmed Chowdhury delivered an informative presentation on some innovative activities and their potentials in poverty reduction in the district. An open discussion followed the presentation, when participants offered various suggestions to address poverty in Kurigram, a district frequently hit by flooding and river erosion.
Dr Nomita Halder emphasised on taking up realistic measures for poverty reduction considering the field situation and further strengthening coordination between government and non-government institutions.
The meeting yielded the following major recommendations:
1. Explore the opportunities to create sustainable means of income generation by providing financial, technical and marketing assistance in expanding high-value crops and technologies under the agricultural sector, considering the geographic and agro-ecological region of Kurigram and the agricultural activities at the participant level and their interest. Examples include summer tomato and watermelon, pumpkin, chilli, flood-tolerant rice, vegetable nursery etc.; carp fattening under fisheries, seasonal and yearly mixed fish culture in pond, high-value fish cultivation in tank, floating cage fish cultivation in open water reservoir, improved and more productive variety of sheep/goat farming and meat production duck such as Pekin, Muscovy etc.
2. Emphasis on rearing an improved and more productive sheep variety for the socio-economic and sustainable development of the extreme poor population in Kurigram. Explore sheep rearing initiatives by participants by selecting suitable POs under the LIFT programme of PKSF. Also, extend necessary assistance from PKSF to the sheep-rearing initiatives with Kurigram district administration's fund.
3. Explore the possibilities of sending some extreme poor household members as migrant workers outside the country from Kurigram and other northern districts as skilled and unskilled labourer to address the poverty scenario of the region. PKSF, its partner organisations and the GoB need to work together to this end.
4. Take the initiative to establish Beef Cattle Hub by rearing a local variety of cows, e.g. Red Chittagong Cattle, and establish a highly productive variety of Dairy Hub to ensure improved management. Besides, take milk processing and marketing initiatives through small and medium entrepreneurs. Take the initiative to increase the multidimensionality of the products in working areas where milk processing is already going on.
5. Organise different training such as house wiring, mobile servicing, welding, plumbing and motor mechanics under different PKSF projects to develop skilled human resources in the off-farm technical sector alongside agricultural sector. Explore the opportunity of taking these activities under SEIP and RAISE projects of the PKSF.
6. Explore the opportunity of installing quality toilets under WASH and other projects of PKSF to develop the sanitation system in remote char areas in Kurigram district.
7. Also, take the initiative to spread the best practices of different projects/programmes implemented by PKSF to develop the quality of life of the poor.
8. Take initiatives to establish farm/off-farm micro-enterprises through increased 'Agrasar' loan activities and other related projects to create employment, especially wage-based employment in Kurigram.
9. Conduct a complete survey by Eco-Social Development Organisation (ESDO), a partner organisation of PKSF, to assess the poverty scenario in Kurigram's Char Rajibpur upazila, with assistance from the district administration, and share the information with PKSF and the district administration.