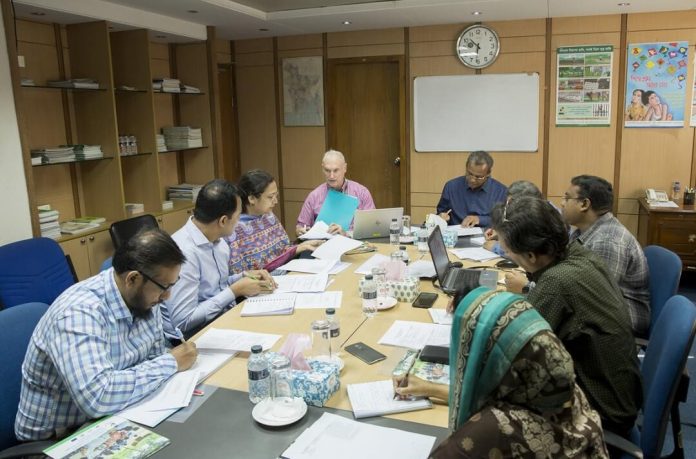 The PKSF and the DFID held the sixth coordination meeting to discuss the overall progress of the Pathways to Prosperity for Extremely Poor People project.
The meeting took place at the PKSF Bhaban on 24 November 2019.
The meeting took place at the PKSF Bhaban on 24 November 2019. A three-member delegation of the DFID, led by team leader Mr. John Warburton, attended the meeting. The two other members of the delegation are Livelihood Adviser Mr. ABM Feroz Ahmed and Senior Programme Manager Ms. Tasneem Rahman.
PKSF Deputy Managing Director Mr. Golam Mawla, it's General Manager Dr. Sharif Ahmed Chowdhury and other officials of the Project Implementation Unit (PIU) were present.
The PIU officials present at the meeting include Mr. Sardar Arif Uddin, sector coordinator, Community Mobilisation; Mr. Abu Tareq Mohammad Salahuddin, sector coordinator, Communication and Knowledge Management; Mr. A.K.M Zahirul Haque, Manager and Ms. Tanzina Nur Jinia, Manager, Nutrition.
The meeting discussed the headway made so far in the one-year Inception Phase that began on 1 April 2019 as well as the activities already undertaken in 17 unions of three different regions since the launch of piloting on 1 October.
Briefing about the progress, Dr. Sharif, also the adviser of the Pathways to Prosperity project, gave a power point presentation on the data collected through Focus Group Discussions and census to identify extreme poor households.
The extreme poor households are being primarily identified during FGDs based on several core indicators such as their income, landholding and living condition.
The nine-step verification process, as well as progress of formulation of the Frameworks of Resilient Livelihoods, Nutrition and Community Mobilisation components, were also discussed in detail.
The DFID team offered some feedback, which will be addressed in the coming days. The PIU has already finalized the working area – 153 vulnerable and poverty-prone unions of 15 districts – and the 20 partner organizations who will implement the project on the ground.
The lists of the working area and the POs were also discussed at the meeting. Issues related to next year's budget (April 2020-March 2021) also came up for discussion, and the DFID delegation assured the PIU team of the PKSF of doing the needful on the matter.
The project logo, created by the PIU team, was also shared with the DFID delegation who agreed in principle on its use in various publications, as it would be a great branding tool.
Jointly funded by the DFID and EU, the Pathways to Prosperity project aims to lift 1 million extremely poor people from 0.25 million households out of poverty by 2025.