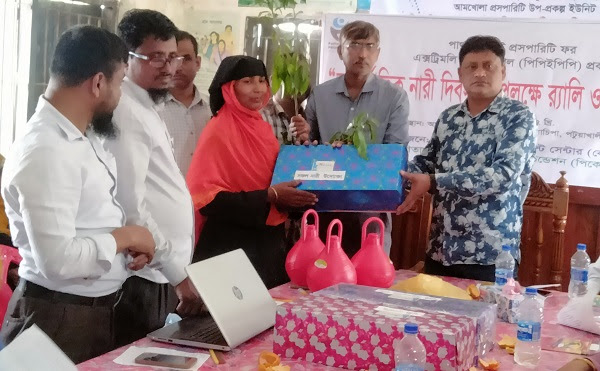 Prosperity partner organisations held elaborate programmes on 8 March, marking the International Women's Day 2022, across the four working regions.
Each of the 19 partner organisations organised discussion programmes joined by union-level elected public representatives alongside Prosperity participants, including members of Prosperity Village Committee, Adolescent Girls Clubs, Mother and Child Forums, and Women Entrepreneurs.
The discussion focused on gender parity and how it helps achieve women empowerment.
On the occasion, successful women entrepreneurs under the project were handed token prizes that included fruit plants and utensils.
Joining the programme, Khulna's Banisanta Union Council Member Papia Mistry said that for the overall development of society, women need to come forward alongside men.
"If women start earning and take part in the decision-making process, there will be no discrimination and it will create an environment where women will enjoy greater acceptance," she said.
Eti Gain, a Prosperity member of the same union, said their community was now better sensitised on gender issues such as gender-based discrimination and violence.
In Patuakhali, Aamkhola Union Chairman Kamruzzaman Monir joined the event as chief guest.
Speaking on the occasion, he said, "Women comprise half the Bangladesh population. If we do not take care of this half, then half the society will remain underdeveloped. So we need to include them in the development process."
Md Bashir, spouse of a project participant in the same union, said he learned a lot of things over the last one year from the couple training organised under the project.
"Now I know that if you respect women, society will respect you," he said.