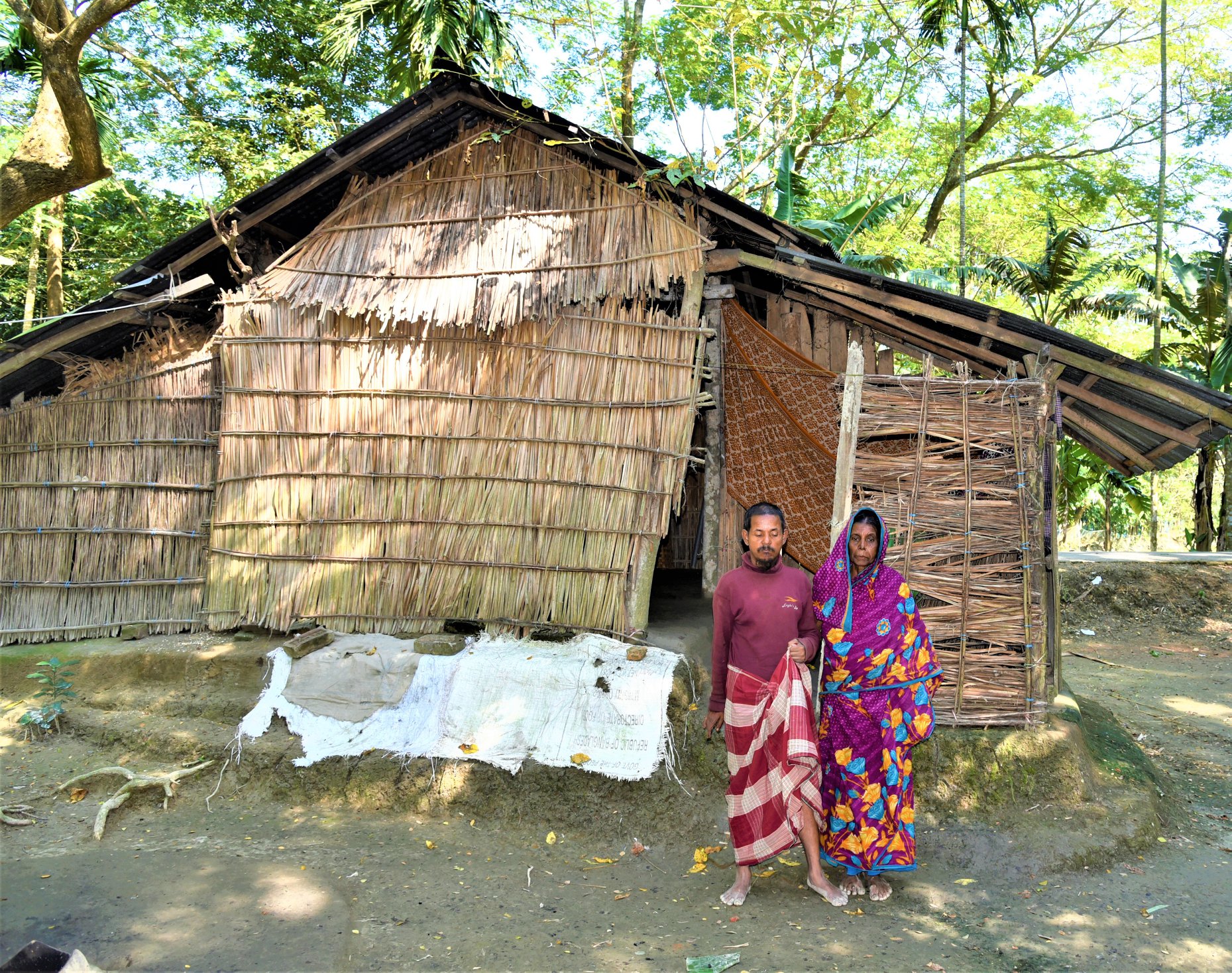 The house by a filthy ditch looks like an abandoned, ghostly place at first glance. But this is no ghost house. This is where Fatema Begum, 59, lives with her 40-year-old disabled son, Faruk.
This star-crossed pair have nothing to call their own — no income, no land, no furniture, not even a stool, in the shabby tin-roofed house built on government Khash land.
All they have is each other, one dependent on the other, and yet neither can do much for the other.
When we first met them on a chilly November morning in 2019, a fragile, short-built Fatema looked suddenly busy. She ran to her neighbours to bring a couple of plastic stools for us to sit on. The clock had already struck past 10:00, but they were yet to take anything for their breakfast.
Subsequent conversations revealed this happens quite often as they live on handouts.
Just the day before our visit, Fatema had managed about half a kilogram of rice from locals, after being turned down by three of her neighbours who are themselves in a vulnerable condition.
"We live on the generosity of our neighbours. If anyone gives us something to eat, we eat. If they don't, we starve," says Fatema, who has been living on this small piece of Khas land in Bhola Sadar for about 40 years.
The house, just a few kilometres from the Union Council office, has no toilet, so the pair have no other way but open defecation. There is no tube-well either, and Fatema has to walk a long way to fetch drinking water every day.
Until her day-labourer husband died about 10 years ago, Fatema at least had someone to turn to. But ever since he died of natural causes, life has been an everyday struggle.
For the first few years after her husband's death, she worked in other people's homes. But as she grew older, the laborious work proved too much for her.
On several occasions, she visited multiple government offices, including the Union Council office, for widow allowance for herself and disabled person's allowance for her son in vain.
"I do not get any allowance from the government because I could not bribe the officials," says Fatema, as Faruk, born with physical and mental disability, throws his hands into the air.
As we take leave, he looks up at the sky through the dense leaves of a huge raintree, as if for signs of sunshine.