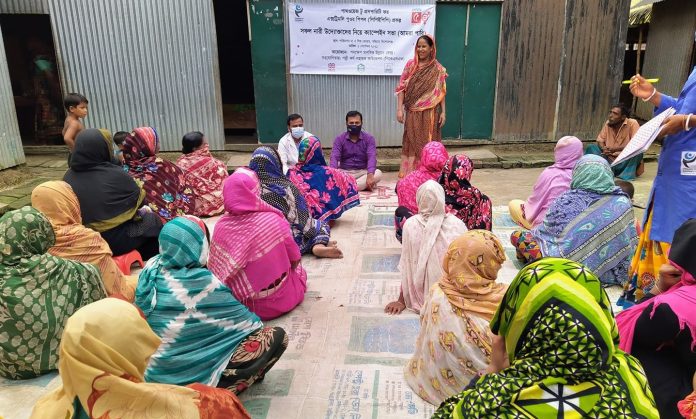 For more than a decade, Majeda Begum moved from one district to another in search of work. Her irregular menial job could barely earn a living. Today, Majeda, 42, is a successful women entrepreneur in Kishoreganj, a haor district in Bangladesh where poverty rate is relatively high.
After her husband left her about a decade ago, Majeda first felt lost. But she quickly gathered herself and took up a day labourer's job in her village in Kastol Union. The work was laborious and the pay was too little. So she moved to Dhaka and then to Chittagong to work as a domestic help. She took her two children along wherever she went.
But they were now growing up, and she needed a permanent place to settle, both for herself and her two children. Majeda decided to return to her village and make her fortune there.
Back in Kastol, she tried her hands in different ventures. With support from the Prosperity project, she started fish farming. When monsoon rain came a few months later, her pond was flooded and her fish washed away. Majeda was in shock, but she kept calm.
She took part in a free training on poultry farming under the Prosperity project and set up her small farm, initially with 50 chickens. Several months down the line, her farm has already sold around 200 chickens and Majeda is planning to invest some of her profit to enlarge her farm.
"I never thought I would be able to send my son to school and arrange my daughter's marriage. But I never stopped trying. After all the hard times, now I am on my own feet. If I can do it, you can do it too," Majeda told a gathering of aspiring women entrepreneurs in Kishoreganj.
The campaign titled 'We can' is an initiative under Prosperity project to inspire potential women entrepreneurs through sharing and learning from each other.
The initiative aims to spread the stories of successful women entrepreneurs among Prosperity members, and help them overcome their financial hardship as well as various social and gender barriers.
During these experience-sharing meetings, selected successful woman entrepreneurs share their journey towards prosperity in various platforms formed under the project, including the Prosperity Village Committee, which is at the centre of all project interventions.